Meet the Woolmark Prize's European finalist, German wunderkind Tim Labenda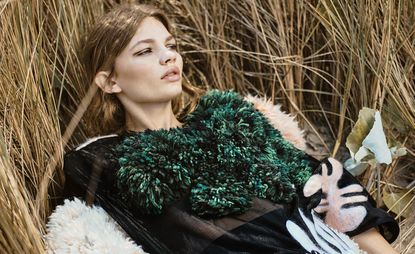 (Image credit: Bastian Jung)
Wallpaper* Newsletter
Receive our daily digest of inspiration, escapism and design stories from around the world direct to your inbox
Thank you for signing up to Wallpaper. You will receive a verification email shortly.
There was a problem. Please refresh the page and try again.
For the past few years, Berlin-based designer Tim Labenda has been a gun for hire, designing capsule collections for retail giant Zalando along with a number of German brands and retailers, while developing his eponymous line. This summer's European Woolmark Prize nod has set him up for the international fashion stage as he moves forward to the global final.

Labenda's winning Cruise collection titled 'Botania' was inspired by Matisse's paper cut series, and brought to life utilising carpet weaving techniques to define his voluminous, organic shapes, composed of 100 per cent Australian merino wool. Toying with texture and haptic surface enrichments, Labenda's style signature combines traditional handicrafts and directional silhouettes.

Wallpaper* spoke to the designer about his far-flung international experience and the secret to fashioning faux fur from wool…

W*: You entered the industry by doing an apprenticeship at BOSS and then opted for more formal training afterwards. Was fashion always on your career radar?
TL: Yes and no. I was not sure after I completed school. I applied to a cabinet maker and a tailor for an apprenticeship, because I was not completely sure if I wanted to do something with fashion or architecture. But I believe in fortune, and it was decided for me when BOSS took me on for a tailoring apprenticeship, which was followed by a traineeship as a patternmaker.

After that you did quite a lot of travelling working in Canada, New York, Vienna, Paris and Shanghai. What was your take-out from these experiences?
I was always into new cultural things, people and countries, so it really opened up my horizons and I learned a lot about handicrafts and fashion production in my travels.

Did you always want to have your own label?
Actually, yes, but I was aware that creating my own brand directly after school made no sense, because of my missing work experience. But I really believe in fortune, and at the same time in taking chances. So when Christiane Arp, editor-in-chief of German Vogue, took notice of me and invited me to the Vogue Salon, I started the brand.

You've remained based in Kreuzberg. What has the Berlin fashion community offered you?
For me it's a very helpful and supporting environment. And of course a place that is very inspiring. I think especially at the moment, Berlin is growing as a fashion destination and is becoming even more influential in international fashion in general.

What has winning the European Woolmark final meant to your brand?
For me it offered approval for what I am doing and a lot of attention Europe-wide for the brand, which I hope will strengthen the confidence of buyers.

Texture and textiles (especially knit) seem to be integral to your collections, even though the use of restraint is also evident. How do you define your aesthetic?
It's very easy and modern, but focused on materials and textures with an interesting use of silhouettes. I think it shows understatement and practicality at the same time.

Tell me about the handicraft techniques that have gone into your Matisse-inspired collection?
I really believe in handmade craftsmanship that you can obviously see, so we used old carpet-weaving techniques to create some of the fringed pieces. And then we also felted some pieces by hand in the Matisse shapes.

More specifically, how you have made fake fur using wool?
That was actually an invention by Lanificio Guasti. They tried hard to make a fake fur by using merino and not mohair or something more naturally furry. They did an amazing job, and actually it is almost done via a carpet-weaving technique. You have a base that you are shooting the wool through and so you get the impression of fake fur. We then trimmed the fake fur into Matisse-like shapes and applied Swarovski crystals.
Of his formative years, Labenda tells Wallpaper*: 'I applied to a cabinet maker and a tailor for an apprenticeship (after school), because I was not completely sure if I wanted to do something with fashion or architecture...'
'... But I believe in fortune, and it was decided for me when BOSS took me on for a tailoring apprenticeship, which was followed by a traineeship as a patternmaker'
The well-travelled designer has taken inspiration from his globe-trotting. 'I was always into new cultural things, people and countries, so it really opened up my horizons and I learned a lot about handicrafts and fashion production'
Winning the Woolmark European final gave him 'approval for what I am doing and a lot of attention Europe-wide for the brand, which I hope will strengthen the confidence of buyers'
INFORMATION
For more information, visit Tim Labenda's website
Photography: Bastian Jung
Receive our daily digest of inspiration, escapism and design stories from around the world direct to your inbox