Meet calligrapher Nicolas Ouchenir, fashion's right-hand man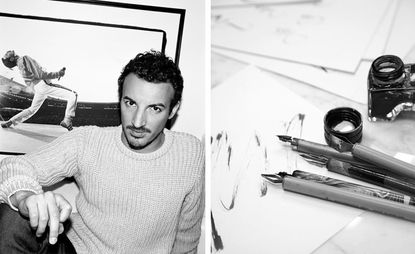 (Image credit: Matteo Montanari, Bruno Werzinski)
Ten years ago, Nicolas Ouchenir (opens in new tab) started to experiment with calligraphy. Entirely self-taught, he invented alphabets - both traditionally crafted and modern in style - for a variety of luxury fashion and arts clients. Today, he is one of Paris' most sought after artisans (with clients including Louis Vuitton, Hermès, Christian Dior and Cartier), and he penned one of the introductory pages for our March fashion issue (W*180). Every fashion week, he writes over 15,000 invitations - as well as scribing special requests for princesses, political figures and stars.
Tucked away in his office in Paris' Palais Royal, the 35 year-old Frenchman tells us all about hand insurance, the changing face of luxury and the intricacies of ink...

W*: How did your career kick off? Are you entirely self taught?
Nicolas Ouchenir: Absolutely. It just never occurred to me I could make a living from it. As a child, I remember going to see the family doctor, who had absolutely awful breath. So, to distract myself from it, I focused on his hand writing for his prescriptions: the ink coming out of his fountain pen, the totally illegible letters he wrote. There was a certain air of mystery and historicity in his handwriting, which I loved. Later, as a teenager I graffitied Paris streets with my friends and took a special liking to it. But it wasn't until I began working in an art gallery ten years ago, that my skill truly materialised. There I began handwriting invitations to buyers, and found that they were a lot more effective. That is how it all began.

Describe your work for Wallpaper* this month?
I made calligraphical illustrations, with an exclusive handwriting that I developed for the magazine. I focused on what the content and readership is all about and injected it - with by own DNA and perception of it - into letters. I thought of something graphic, modern, architectural, that subtly reflects the reader's interests.

Is that how you make sure your skill remains contemporary?
Yes. Instead of simply copying a classical Roman or Gothic lettering, I try and imagine something brand new, always customised for the client. For example, if Vivienne Westwood calls, she'll say, 'let's find a handwriting together'. It is always a collaboration that takes my interpretation into account; it almost becomes a form of consultancy. A house like Maison Martin Margiela comes with a certain freedom but also constraints. For its couture line - I had to calligraph white cloth and hence had to deal with practical issues; what ink, what size, how will this look in a week? I opted for something sophisticated to differentiate it from the ready-to-wear line.

Your list of clients is endless. Why is your work so popular? What added value does it bring to a product or an event?
It starts building the desired image of the event or product in people's mind before they're even acquainted with it. It attracts you, draws you in, creates an aura of desire and exclusivity.

It also adds a human touch to the interaction?
Exactly. Suddenly, it is a human exchange rather than a mechanical, automated encounter. You feel addressed directly, you feel unique, it flatters the ego. Which is key in luxury.

You work a lot with luxury giants LVMH and Kering. Why do you think there is a demand for a calligrapher in such a fast-paced society?
Today, the proximity between high-end and high street is closer than ever. Luxury wants to differentiate itself not by pushing forward a product, but by pushing forward its customer. The aim is to attract people by slowly changing their buying habits. In order to do so, the potential client must be made to feel unique, and the brand must feel like a cocoon. A handwritten note is the first step towards that.

How do you keep your hands in shape?
My right hand is insured at great cost! I also do stretching, gym exercises, hand massages. It is also like practicing piano scales: I sometimes have to calligraph 500 envelopes, and that keeps me fit, so to speak.

What are the strangest requests you've had?
Love letters, break-up letters, tattoos, contracts. It's funny, some clients seem to forget I actually read what I write - and, let me tell you, some of the requests I've neatly calligraphed are just too naughty to be mentioned in an interview. Recently, my field of action has become broader: I work with architects and interior decorators on illustrations for walls, shades, curtains, custom-made vases. Calligraphy is endless and increasingly seeping into the arts - which is very promising for such an ancient skill.