Martial arts: Gentle Monster opens a kung fu-fighting London boutique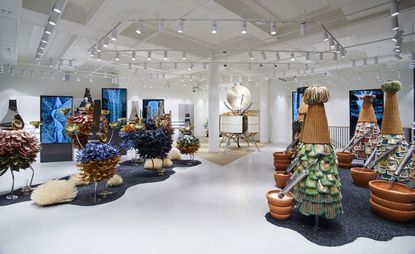 (Image credit: gentlemonster.com)
very three minutes on the ground floor of a boutique on Argyll Street in Central London, a large gong sounds. The sound of its tremors reverberate around the space, causing the arms of mop-haired and pinecone-like warrior aliens to jolt into life. Extraterrestrial invasion? Science-fiction fantasy? Or the latest larger-than-human-life retail concept of Seoul-based opticals label Gentle Monster.
'We were thinking about tiny alien beings obsessed with kung fu,' explains the brand's managing director Gary Bott, of the London store's retail concept. Gentle Monster is renowned for its innovative and imaginative approach to store design. Cue a harvest-inspired outpost in Downtown LA, complete with a gentle undulating rice field, a folklore-focused boutique in Guangzhou, China or a Singapore space inspired by the philosophy of Nietzsche.
For its two-floor martial arts extravaganza in London, Gentle Monster imagined a ground floor space populated by warrior aliens, their armoured bodies constructed from undulating fronds of raffia, weaved panels of fabric and mirrored metal. Downstairs on the lower ground floor sit rows of tiny armed aliens, their limbs too limited for battle, and their minds controlling the extraterrestrial troops upstairs.
For each space, Gentle Monster create a unique multisensory environment, complete with a fragrance (opens in new tab) and soundscape. Amongst the rows of the label's signature flat and two-tone styles – manufactured in the brand's Korean and Chinese factories – customers are also greeted by a battlefield surrounded by shrub-like forms, rows of cheering aliens clutching glittering pom poms, and even an alien hall of fame of the planet's most fearsome fighters. Kapow! §
Related: It's harvest time at Gentle Monster's new boutique in Los Angeles
INFORMATION

For more information, visit the Gentle Monster website (opens in new tab)
ADDRESS
28-29 Argyll Street, London W1F 7EB