Louise Körner: 'future-proofing garments for future generations'
Our Next Generation 2022 showcase shines a light on 22 outstanding graduates from around the globe, in seven creative fields. Here, we profile fashion graduate Louise Körner, from London College of Fashion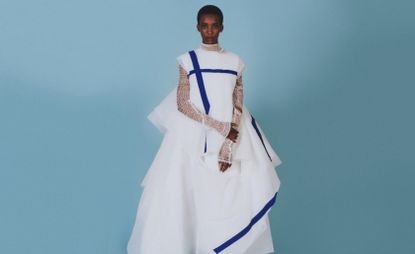 (Image credit: Sophie Gladstone)
Swedish designer Louise Körner boasts a plethora of accolades. In 2014, she received the Premium Young Designer Award in Womenswear for exceptional designs and forward thinking, and her collection was displayed at Galeries Lafayette in Berlin. In 2016, she was awarded the Swedish Talent of the Year Award by the Swedish Fashion Council during Stockholm Fashion Week.
Based in London, Körner completed her undergraduate studies at the Istituto Marangoni, and most recently graduated from the London College of Fashion with a master's degree in Fashion Design Technology in Womenswear.
Introducing Louise Körner
Körner has a multidisciplinary output. She operates a bespoke bridal wear service from her London studio, which has run since 2016. Körner's Instagram profile is populated with fluid, draped wedding dresses, designed in duchess satin chiffon, accented with lace. She has also worked with the English National Ballet, Tom Ford and Puma Black Label by Hussein Chalayan.
While completing her master's studies and accompanying womenswear collection, 'The Becoming', Körner was preoccupied with the concept of protection. Her offering has eco-aware attention and focuses on 'future-proofing garments for future generations'. Cocooning silhouettes, from draped gowns to voluminous jackets and transparent layers, including spiderwebby knitted roll-necks, in optic white and Klein blue, are imagined as hybrid garments. Across silhouettes, a secondary design is hidden within the first, which can be utilised at will by the wearer.
By fusing two pieces into one, Körner encourages a leaner attitude to using raw materials, and prolongs the life of a garment. A garment simultaneously becomes an archive of another one.
For her master's submission, the designer was inspired by an artwork of a forest fire to consider 'the concept of disruption as a design approach'. She pursued this by filming her collection being set alight. 'Using a disruptive force such as fire allowed a greater understanding of the transformative process and highlighted various issues surrounding the fashion industry today,' she says.
Dream collaborator: Maison Margiela.
Wallpaper* Next Generation 2022
More young talents to watch – dubbed '22 rising stars for 2022' and from creative fields spanning design, jewellery, transport, architecture, photography, fashion, and visual communication – can be discovered in the January 2022 Next Generation issue of Wallpaper*, and in this ongoing series at Wallpaper.com.
INFORMATION
louisekorner.com (opens in new tab)

Our Next Generation showcase of outstanding new talents appears in the January 2022 issue of Wallpaper* (W*273). Subscribe today! (opens in new tab)