Loro Piana's vicuña jumpers are the height of lockdown luxury
The Italian luxury specialist launches a collection of extraordinarily soft jumpers in a range of uplifting sorbet shades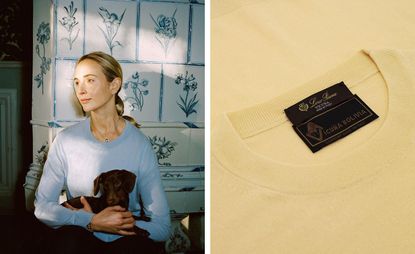 (Image credit: Loro Piana)
We've celebrated the power of soft fabrics as a soothing, protective tool. The last 12 months have seen us snuggle up in soft cashmere, and envelop ourselves in our best blankets (opens in new tab), as a way of shielding ourselves against the outside world. As lockdown plods on in countries around the world, we're taking our tactile obsession one step further, turning our attention to Loro Piana's latest range of round neck and V-neck jumpers, constructed from impeccably soft vicuña, the rarest material in the world.

Recent fashion has seen a focus on organic, cappuccino shades but Loro Piana's collection serves up something a little sweeter. The Italian luxury specialist latest range features styles in lavender, cornflower and powder pink. What could make a more sumptuous colour palette as we tread delicately towards spring?

Vicuña is on one of the scarcest and most luxurious materials in the world, and a fiber that Loro Piana has committed to cultivating and protecting since the 1950s. Only a few grams of the fiber can be harvested at one time. The jumpers in this collection are crafted from fleece obtained from the vicuña's chest, which is very light in colour and incredibly smooth. As a result, the pastel shade of each piece is unique, as this tone changes over days and months. Select and snuggle up in your preferred sorbet shade.
RELATED STORY
INFORMATION