Midas touch: Loro Piana launches The Gift of Kings exhibition at Art Basel Hong Kong 2018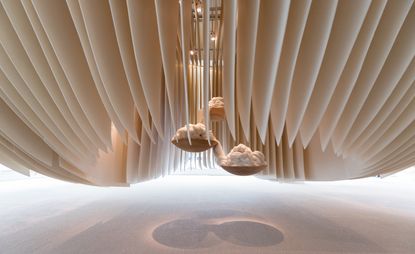 (Image credit: TBC)
The most intriguing installation of Hong Kong's annual art week is outside the blockbuster Art Basel fair on the 18th floor of vertical art complex H Queen's, where Italian luxury textiles company Loro Piana has unveiled an evanescent cloud-like sculpture made of the brand's most precious raw material – its finest merino wool, The Gift of Kings.

Finer and softer than cashmere, this rare fibre measures only 12 microns and is available only in tiny quantities, only 3,000 kilos are produced each year. The title was originally given to merino wool in 18th-century Europe, when the Kings of Spain presented merino sheep to the royal families of France, Britain and Holland.

In Hong Kong, it took an entire week to set up the site-specific installation. There are 590 suspended monochromatic panels that immerse visitors in a surreal and highly tactile experience as they push between outer layers of unfinished coarse fibre wool across three chambers which display the material in progressive forms. Visitors follow the journey from its raw state through various treatments into wrist-thick twists, and finally into a sublime fine yarn that will be spun into a crease-resistant limited series of outerwear, sweaters and scarves.

The material is so soft and delicate that Loro Piana artisans have had to develop special techniques to protect the transformation of the inimitable strands into fabric. The installation, on show for the first time, demonstrates the brand's expertise in sustainable fine fabrics.

'At Loro Piana the sense of touch is paramount: this experience allows visitors to step inside and feel the Gift of Kings while learning about its journey in pursuit of excellence,' says Loro Piana CEO Fabio d'Angelantonio. The raw soft fabric has also been used for 16 whimsical swing chairs suspended from the ceiling, the perfect perch from which to enjoy the gallery's 180-degree views over Hong Kong.

This playful tone continues in a nearby mini-gallery pod adorned with an unusual gift for visitors: pocket-sized squares of Loro Piana fabrics embroidered with the brand's value statements like 'Traditionally Innovative' and 'Pure Rarity'. Loro Piana traces its roots to the northern Italian town of Quarona in the Piedmont region, where the family were wool merchants in the early 19th century. The company was established in 1924 and became part of the LVMH group in 2013.
INFORMATION
'The Gift of Kings' is on view until 31 May. For more information, visit the Loro Piana website (opens in new tab)