London Fashion Week A/W 2022: the trends and takeaways
In this extended report, Laura Hawkins reveals six trends and takeaways from London Fashion Week A/W 2022. Discover brands getting into the beat, the season's greatest knits, and how to bring sexy back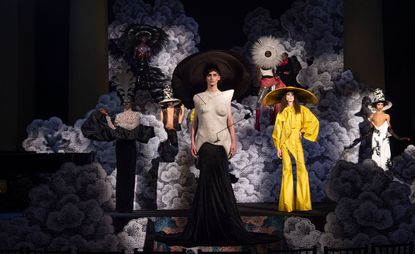 (Image credit: Jason Lloyd Evans)
Not one but three storms – Dudley, Eunice and Franklin – threatened to dampen (and potentially flatten) the spirits of London Fashion Week. Scaffolding shook, trees were uprooted and bins freewheeled down emptying roads, as guests braced for a red alert weather warning, in variously appropriate or inappropriate levels of attire.
But unlike the flimsy roof of the Millennium Dome, all was not lost, as attendees took on the tempest, trekking across the city, from Greenwich to Wapping, Westminster to Knightsbridge, to support London's fledgling and established talent. South London native Ahluwalia and Bedford-born Conner Ives' presented their debut runway shows; Marco Capaldo of 16Arlington paid moving tribute to the brand's beloved co-founder and his partner in life, Federica 'Kikka' Cavenati, who passed away in October 2021; Harris Reed and Ozwald Boateng opened and closed the London Fashion Week A/W 2022 season with powerful performances, which in turn, celebrated ostentatious escapism, unbridled imagination, and the heritage of Black excellence. For Savile Row tailor Boateng, it was a return to the schedule after a 12-year hiatus.
The mood may have been a touch more muted for A/W 2022 (although the sound of constant rain provided an unplanned soggy soundtrack), with a number of talents missing from the physical line-up. Christopher Kane, Vivienne Westwood and Marques'Almeida favoured digital collection films, while burgeoning label KNWLS and stalwart Burberry were missing from the schedule entirely. But at Molly Goddard, the energy in the audience was as buoyant as the frothy tinsel, net, tulle and ruffled taffeta that bobbed down the brand's raised runway; and shows including Supriya Lele, Nensi Dojaka and Rejina Pyo were as celebratory as the diverse range of body types that sauntered along the catwalk with confidence. But the most surprising model of the season? Yuhan Wang's fluffy calico cat Misty.
Here, we count the other trends and takeaways you need to know.
London Fashion Week A/W 2022: the trends and takeaways
01. Bring the beat in
Prime Minister Boris Johnson has announced that all Covid-19 restrictions in the UK will be lifted on 12 April, and if the locations of the London Fashion Week A/W 2022 shows were anything to go by, brands appear to be hankering to get back into the city's nightclubs. Preen presented a performative show, choreographed by Monique Jonas, with dancers from the English National Ballet School at the 1979-founded club Heaven in King's Cross. Fashion East served up strong cocktails in paper cups at E1 in Shadwell, where Chet Lo, Maximilian and newcomer Jawara Alleyne presented their autumn offerings. And David Koma ventured over to the cavernous Magazine London in North Greenwich, the largest event space in the city.
Acknowledging how much we've missed immersive, multisensory experiences, particularly in the wake of the Omicron variant in the UK, live performance was popular. Harris Reed opened the season with a haunting performance from Sam Smith, who serenaded the audience with a cover of Des'ree's 'Kissing You', as Reed presented a collection of red-carpet-ready romantic designs, imagined as a queer culture-inspired interpretation of Sir Herbert Maxwell's book, Sixty Years A Queen, and crafted from upcycled Italian upholstery. At Richard Quinn, a designer unafraid of a catwalk spectacle, the London Chamber Orchestra played Samuel Barber's 'Adagio for Strings'; Erdem enlisted a live pianist; and musically minded Nicholas Daley teamed up with south London instrumentalist Wu-Lu.
02. Look to London's landmarks
London Fashion Week has a history of giving its guests access to incredible locations around the city, something particularly poignant for overseas buyers and journalists, who may not have visited the city for months or years, due to Covid-19. For A/W 2022, locations spanned the niche, the personal and the globally known. Erdem erected a black box illuminated with spotlights at Sadler's Wells Theatre, Ozwald Boateng packed ornate seating boxes at the Savoy Theatre in the West End, Eva Rothschild created original artworks for Roksanda at the Tate Britain, and Simone Rocha returned to the great hall of The Honourable Society of Lincoln's Inn. Inspired by early American supper clubs, and the community spirit they nurtured during the prohibition era, Rejina Pyo – who released a Korean cookbook back in 2015 – hosted a show at izakaya bar The Aubrey, inside the Mandarin Oriental in Knightsbridge, where guests sipped champagne cocktails and tucked into canapés, while nestled in glamorous booths.
Saul Nash had a more personal landmark, and the Afro-Caribbean community, in mind, presenting the collection film Rituals, directed by Fx Goby, located in a north-west London barbershop. In a mesmeric and joyful performance piece, dancers waited for haircuts, sporting graphic intarsia knitwear, Guyana- and mermaid-motif sportswear, and slick athletics-inflected tailoring that was a sartorial tribute to 'Gee' Clevent Artrey, the iconic barber and 'grandfather of Kensal Rise'.
03. Representation rules
In recent years, a host of London labels have pioneered a sexy, body-celebrating sensibility that has been criticised for its focus on a super-slim body type, in a country where UK 16 is the average women's clothing size. Not so for A/W 2022, which saw a wonderfully uplifting celebration of bodies in all shapes and forms, focusing less on extreme proportions, but more on a multifarious representation of curve and contour. American model Paloma Elsesser, who is shaping sizing conversation in high fashion, and has appeared on the covers of American Vogue and i-D, walked in shows including Conner Ives, 16Arlington, Supriya Lele and Simone Rocha. At Nensi Dojaka, pregnant model Maggie Maurer showed off her blossoming bump in a sheer sequined dress, Rejina Pyo celebrated a diverse community of women, and Simone Rocha featured male models on the runway for the first time.
Ozwald Boateng – the first Black tailor to open a store on Savile Row, aged 28 in 1995, and the first Black designer to helm a Parisian heritage house, Givenchy in 2003 – offered a resplendent celebration of Black British creativity, with spins on the Savile Row suit that incorporated rich elements of his Ghanaian heritage. Boateng brought an uplifting energy to the Savoy Theatre, enlisting a host of Black figureheads to take part in his homecoming show, including Idris Elba, Dizzee Rascal and Goldie.
04. Bringing sexy back
The sex appeal barometer was in full swing for A/W 2022, with brands sporting something between a soupçon of skin and S&M bondage. Simone Rocha hoicked her hemlines, with mini skirts formed from a mille-feuille of tulle ruffles and chunky-knit high-waisted knickers in a collection that riffed on the late medieval Irish romance Oidheadh Chlainne Lir, a tale of children turned into swans for nearly a millennia. At Erdem, silk slip dresses in sugary pink and chartreuse silk had a seductive glamour. Fringed floral skirts appeared to fall away, bralettes were layered over rich jacquard dresses, and skinny sequined scarves and nightcaps had an ostentatious escapism.
Supriya Lele had a more rebellious, extrovert edge, with the south London-based designer serving up her signature body-celebrating creations in cherry red, kingfisher blue and canary yellow stretch jersey, alongside sweeping inky leather coats and padded ski jackets, which riffed on men's vintage sportswear. The brand brought a grown-up gloss to proceedings with apron mini skirts and cargo pants in chocolate silk satin, and a cheekiness with heart-shaped lace peeking from V-waistline trousers. Christopher Kane also played with provocation, with an outré offering in bold hues that evoked to the evolutionary tones marked by male sexual selection in animals, featuring wide skirts and peekaboo dresses in fetishistic wipe-clean bonded jersey, accented with crystal mesh and faux fur.
The kinkiest turn on the catwalk? A latex catsuit-clad dominatrix took a turn on the Richard Quinn runway, walking her human 'dog' on a leash.
05. Greatest knits
There was no novelty-seeking in the knitwear on the A/W 2022 catwalks, as brands proposed punchy, sublimely crafted styles that will have wardrobe staying power. Molly Goddard's 'here's-what-I-found-down-the-market'-inspired collection, which riffed on the Mick Jones-meets-Marilyn Monroe wardrobe of Goddard's mum's best friend, featured colourful Fair Isle-knit jumpers and cardigans, paired with frothy calf-crazing taffeta skirts and stompy platform boots. Upcycling pioneer Ahluwalia – who has Nigerian and Indian heritage – riffed on Bollywood and Nollywood films for her debut runway show, which featured a profusion of retro-hued intarsia and melange knits, like flared tracksuit bottoms, sleeveless vests, and sporty zip-up sweaters.
Stefan Cooke revels in creating elevated styles that draw on the pre-Indie Sleaze looks that its founders Jake Burt and Stefan Cooke sported during adolescence. For A/W 2022, the brand's focus on 'modern menswear staples', inflected with a skinny silhouette and a serving of slick sexy, featured petal-shaped cut-out knits, like slim cardigans, and skinny scarves in bold fuschia, grey and yellow.
06. Revel in the razor-sharp
There was a razor-sharp rigour behind a host of silhouettes on the catwalk. Eftychia presented a series of sublime tailored looks that riffed on suiting codes, from tuxedo trousers – their ribbon stripe shifted to the trousers' front – to exquisite wool jackets and pencil skirts. Stefan Cooke similarly riffed on men's wardrobe archetypes, fused with historical references: a tweed tailored coat, a denim jacket with trompe l'œil twisted cord detailing, slim tailored trousers, and a deconstructed suit jacket. Fashion East, Maximillian proved he was more than ready to graduate from the talent incubator, present his final men's and women's runway show as part of its line-up, a lesson in impeccably cut classic silhouttes: a pleated leather mini-dress with a draped black and plunging neckline, a glossy vinyl bomber jacket with cropped proportions, a sheer lavender gown with a monastic hood, a chocolate brown suede trenchcoat.