The colourful knitwear label inspired by 1980s cinema screenshots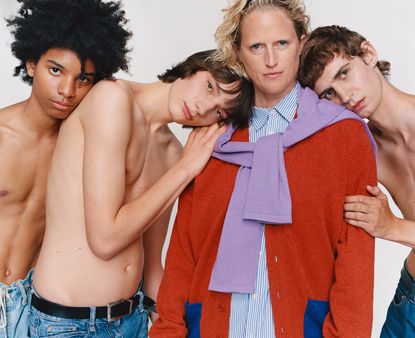 (Image credit: Oliver Hadlee Pearch)
Classics are clothes that last, not clothes that need to keep on changing. The founders of Leorosa – a line of made-in-Italy button-down cardigans and pullovers in David Hockney hues that launched this month – have tuned into the prevailing diktat that fashion needs to put the brakes on. 'People are now realising that we have to go back to buying one piece and keeping it for a longer time,' co-founder Paolina Leccese says, sitting in the label's mauve painted London pop-up. 'We're interested in that attitude. Creating something where people can come back 50 years from now and buy the same cardigan again in a different colour.'

Along with Julian Taffel, Leccese has created a wonderfully sharp riposte to fast, forgettable fashions. The pair met whilst studying at Parsons School of Design in New York in 2013. After graduating they both worked for antiques dealer Emilie Irving and bonded over a shared sentiment for nostalgia. 'We both wore mostly vintage clothes but the biggest thing was our love of knits. We love simplicity but also within simplicity, we need whimsy and colour,' Taffel says. They decided to alter the shape of a typical cardigan, cropping it and giving it a boxier fit, playing too with coloured wool and cashmere yarns. The resulting Leorosa look is part 1990s Benetton, meets the off-beat chic of Milan's la Sciura, with an added Wes Anderson riff on Ivy League dressing.
Leorosa isn't seasonal and its founders don't even consider it to be a fashion brand. Saccharine yet subversively alluring, each piece feels like something you would be thrilled to find in a thrift store; a short women's cardigan has a relaxed bow or Peter Pan collar of faux fur. A men's button down vest has raffish contrasting pockets and piping. Another style has velvet covered buttons.

Leccese and Taffel are inspired by a Euro-centric reverence for well-made clothes, the films of Lina Wertmüller, Éric Rohmer and Rainer Fassbinder, Aki Kaurismäki's The Match Factory Girl and 1980s American cinema. 'We've gotten so many ideas from watching old movies, screenshotting them and sending them to each other, but we also get a lot from being in random places. We go to such weird little shops and pull things from anywhere!' Taffel says. 'A lot of the research process happens online but much is physical too. They are just different experiences, being in a flea market you might find a handful of pieces but online you have thousands,' Leccesse adds. 'Sometimes you go to a shop and see something that captures your imagination. You never know where inspiration might hit.'

The only way to shop right now is to have a few clothes that make you feel good; something special you can wear to death or hand down through the generations. Leorosa's sprightly knits, with their soft cuffs and cheery buttons, deserve to live a full, terrific life. Leccesse says, 'People keep telling us that "oh, you know cardigans are back!" but, I mean, where did they ever really go?'
INFORMATION
Until October 8. leorosa-world.com (opens in new tab)
ADDRESS
7 Grafton Street
W1S 4EL
London
VIEW GOOGLE MAPS (opens in new tab)
London based writer Dal Chodha is editor-in-chief of Archivist Addendum — a publishing project that explores the gap between fashion editorial and academe. He writes for various international titles and journals on fashion, art and culture and is a contributing editor at Wallpaper*. Chodha has been working in academic institutions for more than a decade and is Stage 1 Leader of the BA Fashion Communication and Promotion course at Central Saint Martins. In 2020 he published his first book SHOW NOTES, an original hybrid of journalism, poetry and provocation.