Craftsmanship and couture come together at K11 Art & Cultural Centre in Hong Kong
'Savoir-Faire: The Mastery of Craft in Fashion', a joint venture by Carine Roitfeld and Adrian Cheng, celebrates the skill of European and Chinese artisans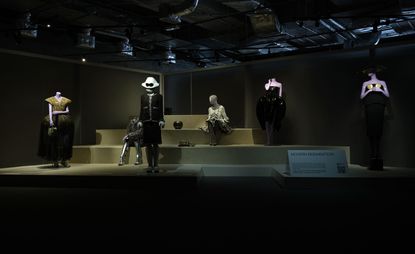 (Image credit: press)
Tucked away on the sixth floor of the K11 Musea retail and art complex in Hong Kong, painstakingly created couture gowns, designed by Chanel, Valentino and Schiaparelli, stand alongside masterpieces of Chinese craftsmanship on austere stages. The space is filled with labours of love, frilled with hand-painted feathers and carved in jade, masterpieces that represent thousands of hours of work by European and Chinese artisans.
The exhibition 'Savoir Faire: The Mastery of Craft in Fashion', held within the K11 Art & Cultural Centre, is a joint effort by former Vogue Paris editor-in-chief Carine Roitfeld and real estate developer and patron of the arts and former Wallpaper* Design Awards judge Adrian Cheng, who founded K11 and its Craft and Guild Foundation. Outfits such as Pierpaolo Piccioli's sculptural coral wedding dress for Valentino Spring 2019 Couture and one of Viktor & Rolf's viral ice cream pastel gowns (covered in a gigantic 'NO' realised in orange compressed tulle) are donned by white mannequins throughout the space, alongside complex laser-cut pieces by Iris van Herpen and impeccably tailored homages to Dior's New Look.
K11 Art & Cultural Centre: where craft and couture come together
Curated by Roitfeld and produced by CR Studios, the show also includes of Chinese artisanship, such as brilliantly coloured guangcai porcelain and jade-inlaid bai baoqian wardrobes, which create moments of pause between the exuberant couture. Its five sections, including tailoring, bridal and extreme craft, present an overview of how techniques have evolved over the centuries.
Roitfeld aims to celebrate the cross-continental works of couturiers and Chinese crafters: 'Throughout history, editors have used the pages of magazines as a canvas to bring to life fashion's most extraordinary ideas and creations. By harnessing an editorial approach to the storytelling and visual journey, this exhibition will showcase some of the most exemplary cases of craft in a way that, we hope, motivates a deep appreciation for the history and heart of fashion among the next generation.'
Cheng adds, 'Through the understanding of craftsmanship – the transmission of tradition, ideas, and techniques between societies and culture – fashion has been creating deeply collaborative relationships of connection and exchange.'
At times, the connection between the antiques and couture is deeply felt. In the bridal section, a delicate gilded floral tea set is nestled between a futuristic chainmail Versace wedding gown – contrasting European bridal innovation in the fashion world with Chinese wedding traditions, which include a tea ceremony to bring together the couple's families. In another area dedicated to 'tales from the runway', designs such as Matty Bovan's trailing Odyssey-inspired gown (shaped like a billowing sail and embellished with glittering scale-like sequins) tell fantasies, as a guangcai cabinet imagines an alternate Jin dynasty universe, where Chinese ancestors feast on pizza in delicate traditional paintings.
While impressive, the connection between Chinese and atelier craftsmanship is sometimes a little too subtle to grasp and doesn't quite cohere. In the final section of the show, 'extreme craft', a plaster moulded lion is left to compete with a staggering Viktor & Rolf gown and the emotional spectacle of Tom Van Der Borght's mermaid-tail gown, which cries out with embroidered words such as 'forget yourself' and 'lonely' and a protective spiked headpiece – a gown borne out of his own experience of living with a degenerative disease.
As a tribute to cross-continental craftsmanship, the exhibition also aims to support the next generation of Chinese artisans, as evidenced by bespoke Alexandre Vauthier dresses, Chloé handbags embellished with vibrant Suzhou-embroidered butterflies, and even guangcai artist-painted Ruinart champagne bottles auctioned to benefit Unesco and K11's Craft and Guild Foundation.
INFORMATION
'Savoir-Faire: The Mastery of Craft in Fashion' is on view until 14 February 2022
ADDRESS
K11 Musea
18 Salisbury Rd
Tsim Sha Tsui
Hong Kong