Revolutionary glass façade wraps around Hong Kong's K11 Art & Cultural Centre
Explore the new undulating installation at the architecturally intriguing K11 Art & Cultural Centre in Hong Kong's Victoria Dockside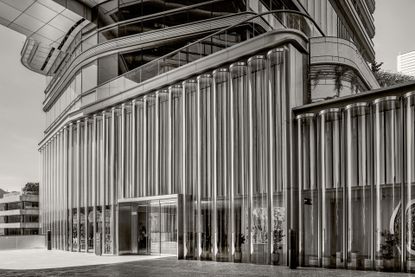 (Image credit: TBC)
Wallpaper* Newsletter
Receive our daily digest of inspiration, escapism and design stories from around the world direct to your inbox
Thank you for signing up to Wallpaper. You will receive a verification email shortly.
There was a problem. Please refresh the page and try again.
Adrian Cheng was a child when he first visited IM Pei's revolutionary glass and metal pyramid at the Louvre. It was, he says, his first experience of architecture that 'activates the soul'. 'I remember being mesmerised by the architectural purity of the pyramid architecture and the daring juxtaposition of old and new,' Cheng recalls. The founder of artisanal-focused lifestyle brand K11, and CEO of Hong Kong-based New World Development, Cheng has been the creative driving force behind K11 Musea, a groundbreaking art-retail complex that opened in 2019 in Hong Kong's Victoria Dockside cultural district.

For the new K11 Art & Cultural Centre, a 6,000 sq m exhibition space with 1,000 sq m sculpture park on the sixth floor of K11 Musea, Cheng was keen to make a visual statement that bridges architecture, urbanism, landscape and public space. So he did not balk when Brooklyn-based architectural studio SO-IL proposed an undulating glass façade that would require investment to develop a revolutionary way of folding sheets of glass to create 9m-high, 0.9m-wide tubes.

Cheng had already noticed SO-IL founders Jing Liu and Florian Idenburg's intriguing grand canopy for the Manetti Shrem Museum of Art in Davis, California, and their organic façade for Kukje Gallery's K3 building in Seoul. He was convinced that they would be able to design something elegantly simple yet distinctive for the new gallery space. It was not the ideal time to invent a new process for making glass: the designers had to move quickly to fit into K11 Musea's tight construction timeline. The architects' vision included rethinking the architectural typology of cultural buildings, moving away from the idea of a cloistered sanctuary and using a glass façade to create something literally transparent and connected to the world around it. But to achieve their vision, they would need to create 307 sheer, seamless glass columns.

'Most traditional museums are enclosed volumes, but we wanted it to have a strong connection with the context and feel part of the urban space, so we knew we couldn't have a typical curtain wall,' Liu explains. Working with engineers Eckersley O'Callaghan, the studio undertook a worldwide search to find manufacturers to make the slender glass columns with an unusually tight diameter of less than a metre (most manufacturers recommend at least 2m widths), but no visual distortions or colour tint.
Spanish architectural glass manufacturer Cricursa took on the challenge, and constructed an extra large oven to accommodate the glass tubes, which each weigh up to 1,200kg and are formed of two layers of laminated 12mm-thick glass. The process called for precise control of heat, and the design of a new moulding system, using massive sheets of metal instead of conventional clamps to hold each tube in place for eight hours. The manufacturing process took a year to complete, during which the architects built models in their Brooklyn studio, then made larger mock-ups at Cricursa's workshop in Spain, and in Germany, where the façade contractors Seele are based, constantly refining the process and planning the installation.

'We like to work closely with people who make and innovate things,' Liu says. 'Computer modelling doesn't always allow you to grasp the tactile experience and figure out what the limits are.' The duo also drew on their experience of working in Japan (where Idenburg was with architecture studio SANAA for eight years and where the pair met) to ensure the glass façade would blur the boundaries between inside and out. 'We wanted the threshold to feel more nuanced with layers of transition, so that even when you are inside the galleries, you feel outside and connect with the wider context,' Liu explains.

Natural daylight is a key component of this experience. The designers added a series of scalloped aluminium screens, suspended from the ceiling, which filter direct sunlight to protect works of art exhibited in the galleries flanking the sculpture park. They also worked with London-based lighting consultants Speirs + Major to integrate ultra-fine continuous LED light strips within the miniscule space between each glass column, to allow the façade to be illuminated at night without affecting the interiors.

'Glass is deceptively difficult to get right, and this form had never been done before, so we didn't know exactly how it would look until the façade was installed,' admits Cheng. 'But I could see that SO-IL was pushing the materiality of glass to the point where its soft shape would create the feel of a sculpture park within a sculpture without taking away from the art.'

Cheng sees himself as both curator and creator when it comes to his projects, and says he always follows his instincts when selecting architects. 'My design projects are a collaborative process,' he explains. 'It is difficult to explain why, but I just know when someone is the right fit for a particular project.'

For instance, at The Pavilia Farm, another groundbreaking project in Hong Kong, Cheng's vision of an urban farm-inspired residential development has been given a harmonious boost by Snøhetta, who contributed a Scandinavian-style residential clubhouse. Meanwhile, the development's 3,090 apartments are set in a pastoral landscape designed by environmental design consultant Ohtori, and there are also forested areas and contemporary barbecue pavilions, including one featuring an organic twisted timber form by Finnish architects Avanto.
And with an eye focused on creating a sustainable creative community at his Hangzhou Wangjiang New Town project in Mainland China, Cheng turned to Japanese architect Shigeru Ban and German architect Ole Scheeren to design an innovative 460,000-sq m, mixed-use cultural destination. The project, which is at the early conceptual design stage, is scheduled to be completed in 2025.

'I know what I want when it comes to creating soul in a project, so before I commission a designer, I want to see if they understand that, and are able to narrate the experience, values and spirit of the space,' he says. 'Then I leave it to them. We have to trust each other.'
A version of this article originally appeared in the January 2021 issue of Wallpaper* (W*261)
INFORMATION
K11 Art & Cultural Centre, 6/F, K11 Musea, 18 Salisbury Road, Tsim Sha Tsui, Hong Kong
Receive our daily digest of inspiration, escapism and design stories from around the world direct to your inbox