How Italian denim label Jacob Cohën is hitting new heights
The luxury denimwear label's star is in the ascendant, thanks to its dynamic president Jennifer Tommasi Bardelle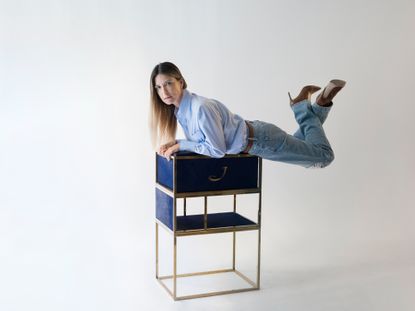 (Image credit: ALESSANDRO FURCHINO CAPRIA)
'They had me doing acrobatics!' recalls Jennifer Tommasi Bardelle, president of Jacob Cohën, of her Wallpaper* portrait session. But having steered the Pontelongo-based brand through the manufacturing and physical restrictions of the Covid-19 pandemic, and made it a more significant player in the luxury and denim industry, Bardelle didn't seem too phased by a little limbering up.
When her husband Nicola was killed in a tragic accident in 2012, Bardelle found herself at the helm of the family business, a brand synonymous with luxurious denim accented with finely honed flourishes, such as jewel buttons, shimmering crystals and patches. The brand was initially founded by Nicola's father Tato in 1985, then relaunched by Nicola a decade before his death. Bardelle has taken the design tenets he cemented – quality, fit, attention to the artisanal, and Italian manufacturing – to steer Jacob Cohën to new heights. Today, the label has retail outposts in 13 cities, including Saint-Tropez, Tokyo, Paris, Prague and Antwerp.
Jacob Cohën and a new approach to womenswear
One thing Bardelle was keen to evolve was the brand's womenswear offering – after her husband's death, its womenswear collection dropped 30 per cent to a mere ten per cent of the business. This changed early last year, when Bardelle released fully realised men's and women's collections, with expanded categories like Loro Piana cashmere sweaters and sneakers. Menswear included a refined tailored offering and womenswear featured a couture collection, with party-ready crystal-embellished denim that referenced the sparkling silhouettes Nicola pioneered in the Noughties. 'People were not ready for it!' says Bardelle of the ambitious launch.
For Jacob Cohën's A/W 2022 women's collection, which features artisanal flourishes, including hand-painted checks on denim, Bardelle looked to Paris' youth riots in the late 1960s, linking their ideals of female liberation with the female empowerment she hopes to inspire. 'In my small world, it's important to show society that leading roles can be taken by women,' she says. She is also expanding the brand to encompass a lifestyle range, featuring home fragrances and candles, as well as design objects, with a special project planned for Salone del Mobile this June.
Information
A version of this article appears in the May 2022 issue of Wallpaper*, on newsstands now and available to subscribers (opens in new tab)