Isko explores the auditory elements of denim at Wallpaper* Handmade X in Milan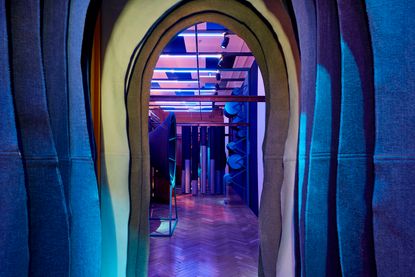 (Image credit: Mark Cocksedge)
Tactile, resistant, hard-wearing: denim is a fantastic fabric when it comes to our human sense of touch. But little research has been done the into the auditory imprint of the fabric. Denim producer Isko has the capacity to produce 300 million metres of denim every year, using 2000 state-of-the-art automatic looms, and it's really making its cutting edge technology heard at Wallpaper* Handmade X, which opened yesterday at Milan Design Week.

This year's exhibition – which unites an amazing host of global designers, makers and architects – is dedicated to the theme of love. 'Denim Sound Textures', an installation created by Isko, sound artist Chiara Luzzana and DWA Design Studio is an immersive and interactive ode to denim, celebrating sound, sight and touch.

'We are constantly pushing the boundaries of what denim means to people,' says Fabio Di Liberto, Isko brand director, of the installation. For 'Denim Sound Textures' Isko has collaborated with a host of labels, including Hugo, Replay, 7 For All Mankind and Madewell, and asked them to interpret a type of denim in its manufacture canon, be it supersoft Isko Pop, rigid-yet-flexible Isko Straight Stretch or Isko Selvedge. Abstract denim sculptures reflect the denim technology of each type. When these are touched, each emits a noise – conceived by sound designer and composer Chiara Luzzana – that reflect the sound characteristics of each denim type.

Violin bows, a pick, a microphone and a stethoscope were all employed by Luzzana to capture the specific sound vibrations of each denim type. Antithetical elements feature, be they enveloping or inflexible, soft or stiff. Now, when you're visualising your next pair of jeans, you won't just be able to imagine its interwoven texture, but the elements of its auditory DNA too. That's something we really love the sound of.
INFORMATION
For more information, visit the Isko website (opens in new tab)
Opening times
9 April, 12–4pm
10–13 April, 10am–6pm
Follow @wallpapermag #wallpaperhandmade for updates
ADDRESS
Wallpaper* Handmade (opens in new tab)
Salone dei Tessuti
via San Gregorio 29
Milan
VIEW GOOGLE MAPS (opens in new tab)