How technology is setting the fashion show agenda, from holograms to VR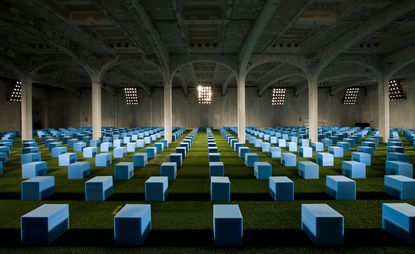 (Image credit: Photography: Agostino Osio. © OMA)
When Christian Dior presented his first collection to the press nearly seven decades ago, it was his New Look designs that had the fashion world buzzing for their radical (if not scandalous) forms. From his flower-strewn salon on 30 Montaigne Avenue – a 'decorated but not decorative', classically elegant space – the 42-year-old designer made fashion history.

These days, in a world where social media rules, fashion brands are devoting the same painstaking craftsmanship into increasingly ambitious show sets as they do their collections – with budgets to match. Shows have become an essential extension of brands, with dazzling installations, bespoke soundtracks, and multi-sensory experiences deemed the new standard. From orchestras to neon basketball courts, fashion houses are embroiled in a game of one-upmanship designed to cater to a global tech-centric audience.

A new book, The Fashion Set: The Art of the Fashion Show, celebrates the supercharged evolution of the modern runway, featuring over 100 images from the world's foremost fashion houses including Louis Vuitton, Prada, Givenchy, Saint Laurent, Chanel and Fendi. Edited by prolific fashion commentator Federico Poletti, and with essays by Diane Pernet and Colin McDowell, the book offers a compelling overview of recent fashion shows.
Sets are now defined by how photogenic – or rather, Instagrammable – they are, with brands plotting bigger and bolder ways to bank those likes. Karl Lagerfeld has conjured spectacular mise-en-scènes including a supermarket and even an airport terminal for Chanel. Dries Van Noten presented a fairy-tale spectacle, laying his models down on a moss-like carpet by Argentinean artist Alexandra Kehayoglou in lieu of a runway.

Other fashion houses have commandeered architectural icons where the spectacle is the location itself. Raf Simons recently opted for a sojourn in sunny Cannes where Pierre Cardin's inimitable Bubble House formed the otherworldly backdrop to the Dior's 2016 Cruise collection. Elsewhere that same season, Louis Vuitton's then-creative director Nicolas Ghesquière whisked us away to Palm Springs, moving into the John Lautner-designed Bob and Dolores Hope Estate.

In the fleeting world of fashion, the long-time creative coupling of Prada and Rem Koolhaas' research and design studio AMO has been a reassuring constant each season. In one especially memorable menswear outing, Miuccia Prada turned to golf for inspiration (even though it was, by her own admission, a sport she hated). Cue AMO's coolly calculated interpretation of an indoor golf course, setting the stage with green Astroturf while guests perched on rows of sky-blue cubes.

Likewise, intriguing sets are often born from designers taking a conceptual turn. Creative duo Jack McCollough and Lazaro Hernandez eschewed the conventional fashion show for Proenza Schouler's pre-spring showing in Florence, collaborating with three artists to create a video, an installation and a live performance. Donatella Versace said of the space age setting for her autumn/winter 2016 menswear show: 'I'm thinking of the future. This is the ultimate expression of the future: space.'
Fashion, though, is a fickle creature by its very nature, restlessly searching for new ways to reinvent itself. Designers may very well soon eschew thrilling theatrics for more austere performances (Vionnet's entrancingly austere S/S15 ballet-inspired set comes to mind). And with the growing popularity of augmented reality and technological innovations such as Oculus Rift, runways now have the potential to evolve beyond the physical realm.

We have already witnessed holograms at Alexander McQueen and the first 4D fashion show care of Ralph Lauren Polo. Most recently, Tommy Hilfiger populated his front row with social media stars for his first see-now, buy-now show, as consumers look for instant gratification both on and off the catwalk. Facebook, meanwhile, has been forging a new path with its recently launched 360 photo (opens in new tab) and video technology, a thought-stirring taster of things to come as it applies this innovation to fashion shows. The once far-fetched prospect of a fashion house connecting its audience through a flawlessly crafted virtual reality now seems plausible, even imminent. One thing is for certain: the future of fashion set design is limitless.
INFORMATION
The Fashion Set: The Art of the Fashion Show is published by ROADS Publishing, £40. For more information, visit the website (opens in new tab)