Now you can rent House of Gucci's Villa Balbiano on Airbnb
The resplendent 16th century palazzo – the home of Gucci family patriarch Aldo Gucci in the upcoming film House of Gucci – can be rented on Airbnb for an ostentatious overnight stay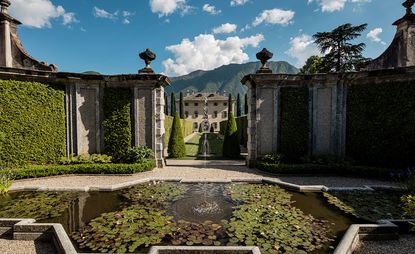 (Image credit: Bruno Erhs)
It's not only the costumes in House of Gucci that have got our aesthetic impulses tingling, but the locations in the Ridley Scott-directed upcoming film too. The movie's cast, which includes Adam Driver as Gucci heir Maurizio Gucci, and Lady Gaga as murderous ex-wife Patrizia Reggiano, flit from one ostentatious scene to another, from the ski slopes of Cortina to the streets of Gucci's home city of Florence, from Rome to St Moritz. Nothing is more majestic than Villa Balbiano, the 18th-century palazzo on the sublime western shore of Lake Como, and the imagined home of Gucci family patriarch Aldo Gucci, the Gucci chairman and eldest son of the house's founder, Guccio Gucci, who established the then-leather goods brand in 1921.
You too can make yourself at home in the sumptuous setting, located in one of Italy's most sought-after luxury destinations, as& Villa Balbiano is now available to rent through Airbnb. The palazzo – which is one of the largest private residences on Lake Como – was once owned by Cardinal Tolomeo Gallio, and features six extravagant suites, designed by acclaimed French interior decorator Jacques Garcia. Exquisite gardens, bordered with manicured lawns and ornate fountains, were distinguished by the British Society of Garden Designers Awards (for historic restoration) in 2017. Think original trompe l'oeil frescoes by the Recchi brothers and Agostino Silva, inlaid marble gilded furniture, velvet upholstery and crystal chandeliers, and rooms accented with objets d'art sourced through Christie's and Sotheby's.
Indulge in an overnight stay at Villa Balbiano from House of Gucci
For those keen to indulge in an extravagant overnight stay, the Villa Balbiano host is offering a special, one-night stay, available through Airbnb on 30 March 2022, where two guests can access the majestic master suite, and its lavish amenities, including the first four floors of the home, the outdoor swimming pool, the private pier and the boathouse. Bookings for this one-night stay open on Monday 6 December at 5pm (GMT).
INFORMATION
Receive our daily digest of inspiration, escapism and design stories from around the world direct to your inbox