Horace Page: reformulating 18th-century military dress for modern day
Our Next Generation 2022 showcase shines a light on 22 outstanding graduates from around the globe, in seven creative fields. Here, we profile fashion graduate Horace Page, from Central Saint Martins, UK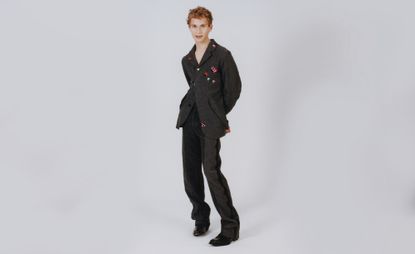 (Image credit: Brillant Nyansago )
Born and based in London, menswear designer Horace Page draws on the symbolism associated with the British countryside and city, creating hybrid silhouettes that reinterpret clothing associated with certain traditions and social spheres, and formulate them into something new.
Page – one of 22 outstanding new talents from around the world showcased in Wallpaper's January 2022 Next Generation issue – repurposes garments that are associated with outdoor pursuits of the upper class, including 18th-century military dress and formal hunting attire, for the street. 'My intention is to examine an alienation between city and countryside,' he says.
Introducing Horace Page
In Page's Central Saint Martins MA Fashion graduate collection, clothing is given a new context. The formal becomes informal. Rigidity takes on a new ease. 'Wool suiting is boiled to remove the structure and leave garments that don't need looking after; they can be scrunched up and worn right after,' Page explains. 'Donegal tweed is sliced open across windbreaker nylon garments, leaving the raw edges to fray together. Secondhand knitwear is embroidered under nylons and cut through to reveal its colours and then boiled to distort and shrink the shapes.'
As part of his research process, Page revisited films, including 1975 period drama Barry Lyndon, a social-ladder-climbing tale based on a William Thackeray novel and 1996's seminal, addiction-themed black comedy-drama Trainspotting. 'They made me look at the idea of a character's free will or lack of it, and how that plays out in their life depending on the circumstance they were born into,' Page adds.
Dream collaborators: Miuccia Prada, Raf Simons.
Wallpaper* Next Generation 2022
More young talents to watch – dubbed '22 rising stars for 2022' and from creative fields spanning design, jewellery, transport, architecture, photography, fashion, and visual communication – can be discovered in the January 2022 Next Generation issue of Wallpaper*, and in this ongoing series at Wallpaper.com.
INFORMATION
Our Next Generation showcase of outstanding new talents appears in the January 2022 issue of Wallpaper* (W*273). Subscribe today!