Hermès scarves by Daniel Buren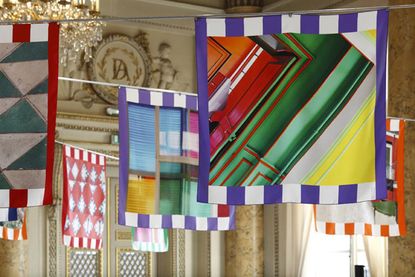 (Image credit: Daniel Buren)
Wallpaper* Newsletter
Receive our daily digest of inspiration, escapism and design stories from around the world direct to your inbox
Thank you for signing up to Wallpaper. You will receive a verification email shortly.
There was a problem. Please refresh the page and try again.
French artist Daniel Buren might be synonymous with large-scale public installations - such as his forest of candy-striped columns outside the Palais Royal in Paris - but he has a lesser-known love for the lens. Since the 1950s he has amassed some 400,000 of what he calls 'photos-souvenirs', documenting his work and travels around the globe, describing them as 'photos without pretension and no more than that'. A selection of these now adorn a series of 365 Hermès silk scarves - named 'Photos-souvenirs au carré'.
The bold, graphic creations incorporate 22 of Buren's photographs, which the artist has cropped in different ways, with varying striped frames, so that each scarf is unique. The project follows on from two earlier collaborations between Buren and Hermès. The artist inaugurated Hermès' contemporary art gallery La Verrière in Brussels in 2000 by transforming its walls with bold graphics, colours and his trademark stripes. 'It was a huge aesthetic shock for me, the way he brought out the space's simple, obvious beauty,' says Hermès artistic director Pierre-Alexis Dumas. And in 2006 he inaugurated a second gallery for the label - the Atelier Hermès in Dosan Park, Seoul - with his 'Filtres colorés', coloured panels that diffused the light to dramatic effect.
In this way, Buren helped initiate Hermès' dialogue with contemporary art. 'Its very important for us to be open, to absorb new experiences, to have a tension, a space linking contemporary art and our métiers,' says Dumas. With the 'Filtres colorés' project, Buren 'once again showed in an amazing way, the simple beauty of the space, using light and transparency. And that's something he used again for the scarf project,' he explains.
The silk scarves were created using ink-jet printing, a technique which allows an infinite number of colours to be used, unlike traditional screen printing. The results are more colourfully nuanced, intense and pictorial. Presented this week at La Monnaie de Paris, the collection is the second edition of Hermès' 'carré d'artiste', the first of which was Josef Albers' 'Homage to the Square' in 2008.
Although artworks in their own right, Buren insists that they are made to be tied about the neck, draped and even crushed: 'They are unique objects like paintings but, rather than fixed on a wall, are made to be worn.'
Receive our daily digest of inspiration, escapism and design stories from around the world direct to your inbox
Malaika Byng is an editor, writer and consultant covering everything from architecture, design and ecology to art and craft. She was online editor for Wallpaper* magazine for three years and more recently editor of Crafts magazine, until she decided to go freelance in 2022. Based in London, she now writes for the Financial Times, Metropolis, Kinfolk and The Plant, among others.