Grand tour: Alessandra Facchinetti gives Tod's iconic Gommino driving shoe a new spin for A/W 2014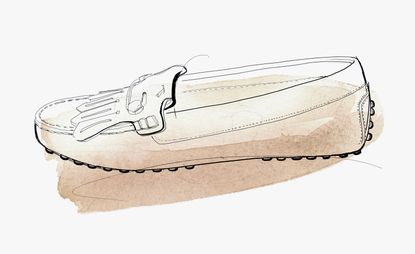 (Image credit: Alessandra Facchinetti)
There aren't too many shoes that have the ability to transcend dress codes like Tod's Gommino. For decades this iconic moccasin has comfortably carried men from turf-side polo matches to uptight member's clubs, without even the hint of a raised brow – just as the cosmopolitan women's incarnation crosses effortlessly from the boardroom to Sunday brunch.
'It is the trademark of the brand and part of its craftsmanship heritage,' explains Tod's womenswear creative director Alessandra Facchinetti of the distinctive loafer with the trademark sole of 133 rubber pebbles. 'To me, the Gommino is part of the Tod's legacy and has always been part of my life.' She adds that the driving shoe has long been a wardrobe essential of hers, even prior to joining the Italian house last year.
'When I started at Tod's, my first thought was to remain faithful to the brand's philosophy and lifestyle – and, of course, to its heritage,' she says. 'I've tried to maintain a good balance between the Tod's DNA, keeping iconic styles such as the Gommino, and adding my personal touch with feminine and graphic details – all in keeping with the refined craftsmanship it is known for.' Each pair of Gomminos require some 100 construction steps, and are hand-assembled in Italy using up to 35 pieces of leather per shoe.
For A/W 2014 Facchinetti upped the Gommino's saturation point, contrasting primary hues with pastels; she also added a front fringe secured with a Deco safety-pin (no doubt her twist on a classic) to the Gommino Spilla. 'I wanted to maintain all the strong points: practicality and the use of colour,' she says. 'Then, I decided to have fun – from the Gommino Spilla to the [limited-edition] Couture version.' (The latter has been embellished with a suitably graphic toe ornament.) 'In every shoe, in every structure, there's always a trace of the Gommino,' she says, referencing A/W 2014's Ballerina Margot. Here, the moccasin's signature sole has been reimaged as metallic pebbles on each ballet slipper's heel.
As for the boys? Since the 1970s the widely imitated Gommino has been a staple in the contemporary man's wardrobe, representing indisputable good taste or conformism, depending on your side of the style coin. The idea this autumn was to entice out the City Gommino during the cooler months with a full rubber sole, designed to keep up with Monday-to-Friday wear and tear. Rain puddles and suede pebble soles may never have been the best of friends, but the Gommino's hardly short of fans. In fact, the #todsgommino now has its very own dedicated social media site.
Receive our daily digest of inspiration, escapism and design stories from around the world direct to your inbox