First look at Hedi Slimane's debut Saint Laurent couture collection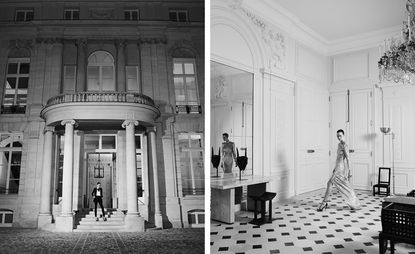 (Image credit: press)
In January 2014, Saint Laurent's tailoring and flou atelier moved into Paris' historic Hôtel de Sénecterre at 24 Rue de L'Universite, reuniting the brand with its Rive Gauche roots. Built in 1685 by Thomas Gobert – the building planner of Louis XIV – the 2,100 sq m site's restoration was overseen by Saint Laurent creative director Hedi Slimane in the traditional 18th century French style.

Today, the designer unveiled his debut couture collection, shot onsite within the newly furnished building's palatial surrounds. The numbered, one-of-a-kind women's and menswear pieces, which recapture the spirit of the Rive Gauche – Le Smoking, bow blouses and silken gowns included – each sport the iconic Yves Saint Laurent label (in ivory silk no less), and will only be available to close friends of the house.

The site's interiors, shown to their full glory in Slimane's new couture campaign (pictured here), showcase an eclectic mix of traditional and deco furnishings in addition to an African undercurrent, tied to the house founder's exotic sphere of influence. Covering three floors, the salon couture is located on the first floor and the flou and tailleur ateliers on the second and third floors respectively.

Other modernist furnishing touches, curated by Slimane, include pieces by Jean-Michel Frank, Paul Dupré-Lafon and 1930s designer Elizabeth Eyre de Lanux (opens in new tab), (Slimane's favourite modernist and the creator of a parchment desk that previously belonged to Yves Saint Laurent), while above the building's grand staircase, Slimane commissioned American artist Garth Weiser to paint a black and white diptych.

Outside, the property's precise, geometric garden has been replanted from 18th century archives with the help of a historian. 5 Avenue Marceau, the address of the last couture house, has since became La Fondation Pierre Bergé-Yves Saint Laurent, and here in its historic heart of Saint Germain a new vigour burns strong.