Finery London draws a new line in the capital's contemporary womenswear market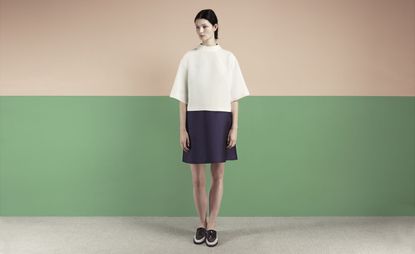 (Image credit: Finery )
New womenswear brand Finery London launches today with a refined focus on high quality design and clean lines at an accessible price point that aims to address the gap between London's derivative high street chains and luxury sector.

Backed by the Global Fashion Group and headed by brand director Caren Downie, formerly fashion director of ASOS, the online brand is geared towards effortless style staples cut with an architectural approach that feels of-the-moment without coveting catwalk trends.

'As a result of the recession we felt that the attitude on the high street has changed and that more focus has been placed on the younger target market,' says Downie. 'Our customer is looking for higher quality product that is more considered.'

Downie was quick to poach Emma Farrow, previously design director of Topshop, as Finery's head of design. 'I loved working with Emma when I was at Topshop,' explains Downie. 'She is extremely creative but has a very considered approach which is rare to find. She has great taste but is very unassuming at the same time.' Up until her departure, Farrow was responsible for Topshop's Unique line shown at London Fashion Week.

Farrow was lured by an open design brief, the only stipulation being to create pieces the pair wanted to wear themselves. 'Our starting point was with our most treasured pieces from our personal wardrobes,' says Farrow. 'Those items that you can't live without and have had for years and years... the perfect vintage dress or t-shirt that go with everything. We were very keen to take a step away from the noise of the catwalks and current trends that seem to be saturating the market.'

Art references repeatedly reverberate in Finery's bold use of print and colour. 'It actually got me thinking that print design could be a great point of difference, so we started commissioning illustrators and artists to design bespoke prints for us,' says Farrow.

Key collection archetypes include the trench, leather skirts, silken jumpsuits and directional day dresses - all cut with a contemporary twist. The debut spring/summer 2015 collection also includes a small range of shoes and accessories, which they plan to expand upon going forward. Offering a weath of style inspiration, Finery's tightly-edited capsule collections will drop online monthly. However, for the next few weeks the brand has a pop-up 'Fitting Room' at 35 Monmouth Street, Seven Dials where London customers can sample their fine fit in person.