Fine print: the fashion brands getting bookish for S/S 2019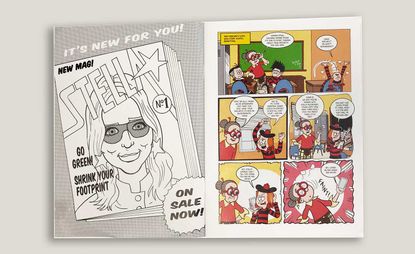 (Image credit: Aylin Bayhan)
A host of brands have bound their mantras across the pages of leaflets, magazines and newspapers for spring. Take Stella McCartney, who created a Beano-inspired comic to educate guests about her sustainable footprint at S/S 2019's fashion week, complete with speech bubble sound bites from Minnie the Minx, Dennis the Menace and the designer herself.
At Gucci, creative director Alessandro Michele created a Martin Parr-lensed fold out book, dedicated to the decadent A-list history of Le Palace, the legendary Paris nightclub where he staged his S/S 2019 show. The publication was a reinterpretation of the original zine founded by Prosper Assouline, which celebrated the late nightspot's history, in a series of issues from 1980-1982.
For Gucci's Maurizio Cattelan-curated exhibition 'The Artist is Present', held in Shanghai in October, the house also created The New Work Times – a fake news-filled counterfeit newspaper, dedicated to the show's exploration of cultural reappropriation. Rudi Gernreich also celebrated its return to Paris Fashion Week with The Rudiment, a pinkish-paged newspaper exploring the history of the experimental and swimwear-suffused label.
But it was women's design director Fran Stringer who most expansively bolstered the 203-year old history of Pringle of Scotland, with the glossy and matt-paged perfect bound magazine Pringle Bulletin. The issue was inspired by an in-house magazine of the same name, which from 1949 until the 70s was used as a communication tool – conveying engagements and births – to its employees in the brand's hometown of Hawick. 'We've paused our runway show format,' Stringer says, 'We thought Pringle Bulletin was a great way to convey our wonderful heritage.'
'There are so many stories to tell at Pringle of Scotland,' Stringer adds of the multifarious narratives and shoots that are interspersed throughout the issue. She was keen to educate readers that the label is not only about golfing attire or simply the signature Argyle knit.

Inside, Pringle Bulletin features a visual tour of the brand's Hawick factory, shot by burgeoning photographer William Scarborough, plus an exploration of the label's archive, shot by fledgling talent Julie Greve, amongst woodland and next to riverbeds in Wales. 'We gave her a suitcase full of clothes, and she got in a minibus with her friends,' Stringer says. 'They just hung out and had an amazing adventure.'
The issue also features a plethora of heritage material, from original competition pages from Pringle Bulletin, to archival advertising campaigns, a Vogue shot of Richard Gere sporting wares by the brand, to posters from when Princess Margaret visited Hawick in 1952. It also features an expansive photoshoot, shot by Oliver Hadlee Pearch and styled by Francesca Burns, showcasing friends of the label in its colourful and patterned designs, from choreographer Benjamin Milan, to actress Vicky McClure, artist John Booth, to musician Ama Lou. 'People often have such affinities with Pringle of Scotland,' Stringer says.. Often, someone has a jumper their granny handed down to them.'
Despite the colourful, extensive and fantastic content inside Pringle Bulletin, the front cover features the magazine's original graphic: a charming illustration of the facade of Pringle of Scotland's Hawick HQ. 'It's such an amazing image,' Stinger says. 'Often these snippets get lost or vanish with employers. It's amazing to have had Pringle Bulletin to look back into history.' We think its newest leaves are page-turning embodiments of the future too.