Italian sportswear giant Fila looks backwards to go forwards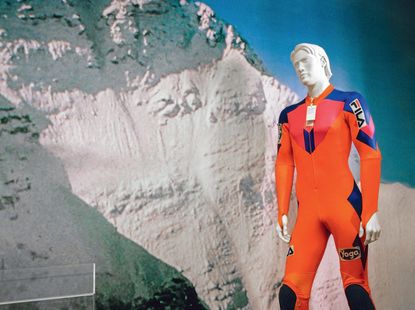 (Image credit: Polly Brown)
Successful sportswear brands are no longer purveyors of just clothing and equipment for sports. They are now fashion brands. And footwear brands. And media publishers. And high fashion collaborators. They are lifestyle labels and video-makers and cultural icons to be name-checked in rap songs. It's tough competition out there – and brands must move with the times to survive.

It's intriguing, then, that when Italian sportswear brand Fila was trying to return to match fitness, floundering after its success peaked in the 1990s, it looked backwards, rather than forwards, pouring money into a museum and archive, the Fondazione Fila Museum in Biella in northern Italy. But then Fila was once a brand with imperial ambition and serious momentum. And it was intent on being that again.

Biella is an unassuming town in Piedmont. On a flying visit, you'd miss the fact that it's a vital hub for the production of various luxurious fabrics, such as fine wool and cashmere. It's here that the Fila brand was born in 1911, making yarns and clothing. It's had a long history of highs and lows. In the 1960s, the firm ran into financial problems, so it called on consultant Enrico Frachey, who become known as 'Il Dottore' (the Doctor).
Inspired by his own passion for sports, and noticing that activities that had once been the pastime of the elite were being taken up more broadly, Frachey suggested Fila move into activewear. By the 1990s, the brand had acquired cult status, with the success of trainers such as the FX 100, which found an audience among cool kids more interested in fashion and music than athletics. If Fila apparel had its heritage in Italy, its footwear found traction in the US, specifically American pop culture and street style. Then things got tough. A particular US sportswear giant was about to begin a winning streak that left the competition breathless and bamboozled.

'The archive was being built while the brand was in upheaval. Stores were closing. It was just three years after the acquisition of the group [by Fila Korea] in 2007 and the brand was being rebuilt from the ground up. Maybe some people in the group couldn't see the point,' says the Fondazione Fila Museum's vice president Marta Benedetto, who began work on the project in 2010. 'The thing with a foundation is that it's only a cost,' she adds. Indeed, the returns on investment are less tangible than those that can be felt after opening a new store or releasing a new capsule collection.

But Fila Korea's chairman, Gene Yoon, believed it essential to show 'the value and the history' of the brand. Benedetto and her colleague Annalisa Zanni, the foundation's manager, waded through 10,000 boxes, dating key items. 'It was not organised at all,' says Benedetto. Luckily, both have worked at Fila for nearly 20 years and they were able to quiz ex-colleagues for information. They now look after some 15,000 garments, more than 30,000 shoes, and an array of accompanying catalogues and literature. Along the way, the pair and their team came up with innovative ways to archive – trainers are vacuum-packed and hung in rows from metal racks. While the museum is open to the public, the full archive is by appointment only, though there are visitors of some sort nearly every week, including Fila designers, licence holders and collaborators. 'When I see the eyes of the designers when they visit, I realise what we have,' says Benedetto.

Yoon predicted the nostalgia of the future, she argues. 'When the time to open arrived, the timing was perfect. Everyone is selling their history now. Many can't sell true history, or something unique – but we have objects to back up everything that can be said about our brand.' When the archive opened in 2010, the trend for retro sportswear was just about to boom. In 2016, for his S/S17 collection, Gosha Rubchinskiy debuted a collaboration with 'old-school' sportswear brands including Fila, Sergio Tacchini and Kappa. To a new generation, they felt fresh. Giants like Adidas caught on, bringing back Gazelle trainers and Beckenbauer tracksuits. This year, Fendi sensed the potential for a collaboration between two respected heritage Italian houses and reached out to Fila to work together on graphic printed T-shirts.
Many people think of tennis when they think of Fila, recalling a young Björn Borg sporting the brand's apparel on court (a wonderful shirt on display in the museum shows a prototype for Borg adapted from a style made for Italian player Adriano Panatta, featuring hand-drawn pen stripes). But the museum shows the ambition of Fila during its early years – the range is surprising. So too is the focus on pushing style as well as function.

'Back then, a lot of the companies had a gentleman's agreement,' says Benedetto. 'Tacchini was only doing tennis. Lacoste only tennis. North Face only mountain – so there was not a company that was really covering other sports, and Fila wanted to be that.' The first apparel collection in 1973 catered to tennis. In 1976, it created clothes for climbing – its White Rock collection of 1978 was worn by Reinhold Messner when he became the first man to climb Everest without supplementary oxygen. Later, Fila set its sights on skiing, sailing, diving and swimming. Then came basketball, cricket, running and table tennis.

Within the archive, the brand hopes to discover the ticket to its future: to bottle the essence of Fila and recapture its former glory. Yoon has remodelled the business structure to prioritise licensing agreements, something he knows a lot about having spent years working as a manufacturer of Fila products in Korea. His introduction to the brand came in the 1980s when he spent hours travelling to Biella to try and secure the Korean licence for Fila, but was turned away. The archive allows Fila to have better relationships with its global collaborators, who can refer back to the brand's greatest hits for inspiration. It's fully digitalised, so teams as far-flung as Brazil and China can request material. Such knowledge is vital for maintaining cohesion. 'When I see a product, I can immediately say, this is Fila, this is not Fila. I don't need to see the logo. When you spend every day in the archive, you just know,' says Benedetto.

By bringing attention back to Biella, Fila hopes to spread globally without losing any of its DNA. 'We have had a lot of difficulties,' says Benedetto. 'The journey has been very long, but now, after so many years of hard work, we are starting in the right way.' §

As originally featured in the October 2018 issue of Wallpaper* (W*235)
INFORMATION
For more information, visit the Fila website (opens in new tab)