Fendi and Kim Jones pay tribute to Bloomsbury Set in new book
The Fendi Set: From Bloomsbury to Borghese, published by Rizzoli and featuring ethereal imagery by photographer Nikolai von Bismarck, celebrates the dual history of the Roman fashion house and the mid-20th century British intellectual group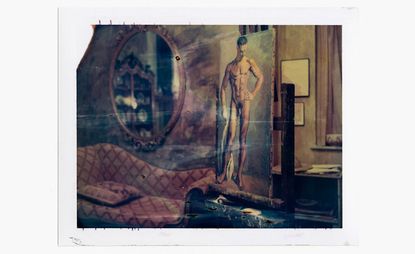 (Image credit: Nikolai von Bismarck)
In 1925 – the year that Fendi (opens in new tab) was established in Rome – Virginia Woolf's seminal modernist novel Mrs Dalloway was published. The text, revolutionary in form, spanning just a single day but flitting between times, narrators, and slipping into stream of consciousness digressions, was published by Hogarth Press, the imprint that Woolf ran with her husband Leonard, with a dust-jacket designed by Vanessa Bell, Woolf's painter and interior designer sister. British obscenity laws had prevented the duo from first publishing the text – which made reference to homosexuality, PTSD and suicide – in 1919.
The date is serendipitous, as womenswear artistic director of Fendi, Kim Jones, has long held an affection for Woolf's literary canon, and the creative output of the novelist's fellow English artists, writers and intellectuals, who were part of the Bloomsbury Set. Jones, a longtime bibliophile, has collected rare signed and first edition works and literary and artistic memorabilia linked with the group, and the furniture and art objects that Bloomsbury Set members Roger Fry, Duncan Grant and Vanessa Bell created through the Fitzrovia-based Omega Workshops.
Jones' interest spans from teenagehood, when he spent his adolescence cycling around the bucolic East Sussex villages Firle and Rodmell and visiting the bohemian town of Lewes, near Charleston House, the home of Vanessa Bell and Duncan Grant, which became a Bloomsbury Set residence and sanctuary.
The Fendi Set: the Fendi family and the Bloomsbury Set meet in print
For his debut S/S 2021 Haute Couture collection for Fendi, Jones looked to Woolf's seminal Orlando, the 1928 novel that sees its main protaganist flit between centuries and sex, from an Elizabethan nobleman to a poet-entertaining lady, and has become a seminal text in gender, feminist and transgender studies. Vita Sackville-West, the married aristocrat with whom Woolf had a 20-year love affair, inspired the novel. Fendi's maze-like show set featured books and shelves stacked with rare volumes and ephemera related to the Bloomsbury Set, sourced from London's Peter Harrington Rare Books, which included the first copy of Orlando, once read by Sackville-West herself.
Now, Jones has translated his fascination with the Bloomsbury Set into the pages of a new volume, the Rizzoli-published The Fendi Set: From Bloomsbury to Borghese, which celebrates the dual history of the Roman fashion house and the mid-20th century British intellectual group. The book – ghostly and ethereal in tone – hones in on the locations integral to both, travelling from Charleston House, Knole House, and Sissinghurst Castle in England, to a Haute Couture show set in Paris, before landing at Rome's Villa Medici and Villa Borghese.
Alongside diary entries, excerpts from Bloomsbury Set members and love letters between Woolf and Sackville-West, the book is layered and collaged with original photography by Nikolai von Bismarck, who spent 11 months capturing portraits, interiors and landscape images, following the trail of the Bloomsbury Set and the matriarchal Fendi family. Drawing on the modernist link between the development of new visual techniques and literary traditions, von Bismarck worked with photographic methods employed during the first half of the 20th century; he created muted, layered and blurred images using cameras including the Bolex Super 8, 180 Polaroid Land Camera and 8x10 Sinar and a variety of printing and dyeing techniques, such as colour-dye reversal, slide photography and expired Polaroid film. Figures appear to drift across pages, images have a Post-Impressionist quality, photography assimilates the past with the present.
Other stylistic techniques celebrate the heritage of the Bloomsbury Set: the Caslon font, which Woolf and her husband designed for Hogarth Press, is used throughout the book, and the volume's marbled textures were created from photographs that von Bismarck took of book covers in Jones' personal archive and the library at Charleston House.
For literary and style obsessives alike, The Fendi Set: From Bloomsbury to Borghese is a century-spanning bookcase essential. In Orlando, female protagonist Lady Orlando holds court with a host of famed writers, including Alexander Pope. With this multi-layered volume, now you can too.
INFORMATION
fendi.com (opens in new tab)