Y/Project S/S 2020 Paris Fashion Week Women's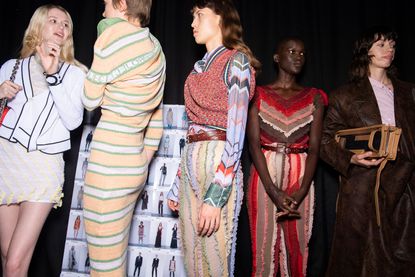 (Image credit: Jason Lloyd-Evans)
Scene setting: Creative director Glenn Martens is a whizz when it comes to historical references, and his collections have brought the world of bygone couture into the cool of the Zeitgeist. For S/S 2020, the designer took an underground excursion into the cool, cavernous arches beneath the Pont Alexandre III Bridge, a Beaux-Arts style design, festooned with nymphs and winged horses, designed by Joseph Cassien-Bernard and Gaston Cousin between 1896 and 1900. 'It was all about opulence and the Belle Époque,' Martens said backstage. His show was accompanied by Johann Strauss's The Blue Danube, which was distorted and fast-forwarded as if played on a malfunctioning tape machine, shrill, squeaky and barely audible. 'It's like 19th century Paris on acid', he explained.

Mood board: Marten's aesthetic acid trip was a fusion of genres and styles, that sublimely demonstrated his street-meets-couture sensibility. 'I like a bit of flamboyance' he added. For spring, this meant deconstructed sport knitwear, worn ruched, pulled and turned upside down, denim streaked with gold paint, seductive 30s gowns with cleavage revealing draping and oversized 80s tailoring. Medieval silhouettes, mini skirts and mind-bending Art deco prints, were all part of his on-acid opulence.

Finishing touches: XL accessories are all part of Y/Project's aesthetic agenda. For spring, earrings were enormous and resembled heart-shaped springs, vintagey leather handbags were long like musical instrument cases and gold heels wrapped around the ankle like a Slinky.