Maison Margiela S/S 2020 Paris Fashion Week Women's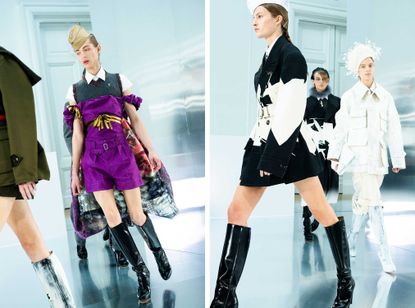 (Image credit: Jason Lloyd-Evans)
Moodboard: John Galliano has always been at his best among history books., which is where he found himself back at yesterday, after a couple of seasons spent delving on the digital world and the whims of Generation Z. This time, though, it was the silent generation that inspired him, and its liberation efforts and time spent at war. As it turned out, the choice of subject came across as more of a commentary on today's political goings on than a historicism exercise; the nurses, soldiers and sailors gleefully strutting the catwalk, in all their cabaret-esque glory, were a dialogue between present and past. Or, as the show notes put it, 'stories of hope, heroines and liberation, forgotten as history draws ever closer to repetition.' In the week where Trump's impeachment has been announced and the Brexit debate has hit a boiling point, Galliano's hopeful, politically charged message seemed particularly on point.

Best in show: Walking dramatically to a muted version of Lili Marleen, models were clad in an array of classic menswear fabrics and shapes. It was all no-frills and utilitarian, from the nurse capes (paired with beautiful organza headgear) to the décortiqué trench coats, the oversized blazers (in overblown geometric camouflage prints in tones of olive and moss green) and the shift dresses. Watteau dresses – classic Galliano – were made to look like parachutes. Utilitarian pockets and comfort – in the shape of oversized duvet coats – were essential. And Galliano further winked at the ways of the silent generation by using upcycling, holes and elements of make do and mend. Which, again, was a timely reflection on today's fast fashion obsession.

Finishing touches: John Galliano's unusually political message this season came in a gleeful camp packaging, but was that a way to give a rosy tint to an otherwise reflective show, or was it actually yet another political statement? Models (of all genders) walking in vertiginous heels with the assurance of cabaret singers, knee-high boots, crocodile leather bags and asymmetrical clutches and boas seemed less like pure unnecessary ornament than very necessary LGBTQ activism. 'I love this spirit of activism', the designer explained in a Maison Margiela podcast release after the show. Without the shadow of a doubt, the audience did too.