Stella McCartney S/S 2019 Paris Fashion Week Women's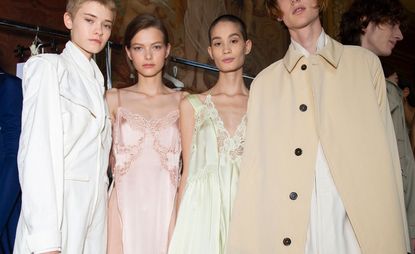 (Image credit: Jason Lloyd-Evans)
Mood board: The last few months have been a frenzy of mergers and acquisitions drama for the fashion industry. More than ever in a competitive and commercial landscape, independent brands are looking to selling part of their stock in order to gain long-term stability and financial security. But Stella McCartney has always gone against the grain, and that goes for her business acumen too. The designer has freshly regained independent status after buying back her business from Kering. And although that puts her in a much freer creative position, it also comes with new responsibilities. For S/S 2019, this was no time for shock and surprise, but one for reasserting the brand's easy, relaxed and versatile philosophy.
Best in show: It was all about classic McCartney here, the kind of easy, super wearable pieces we can all do with: tie dye mini dresses and t-shirts, utilitarian bleached denim, unstructured dresses and silk-and-lace slips, and some winks to British textile tradition in the form of flower-printed tops and neoprene onesies. But the real showstopper was the slouchy suit, which, this season, has gotten even slouchier, acquiring a genderless feeling made out of linen and sustainable viscose in faded pastel tones. It is this suit alone which embodies the unique charm – simultaneously nonchalantly chic and endlessly comfortable – of Stella McCartney.
Team work: It's always a pleasure to receive McCartney's playful novelty show invitations in the post. This season – after having scored keyrings, socks, board games and water pistols in the past – we were offered a comic book made in, unlikely, collaboration with… Minnie the Minx. In it, the 1950's-created British comic strip character travels to Paris on a sustainability assignment to assist the designer. Mischief ensues… but in the process we get to understand a bit more about the brand's sustainable footprint.
Receive our daily digest of inspiration, escapism and design stories from around the world direct to your inbox