Comme des Garçons S/S 2019 Paris Fashion Week Women's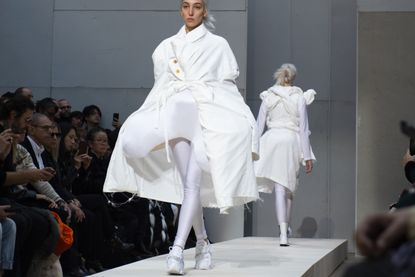 (Image credit: Jason Lloyd-Evans)
Mood board: Fashion has the power to make us escape reality, to forget the present with a fantasy. It also confronts contemporary truths. It's rare that Comme des Garçons founder Rei Kawakubo offers explicit explanation behind her collections, but her explorations of shape and structure have drawn parallels with questions regarding female identity and gender. Her famed S/S 1997 'Body Meets Dress, Dress Meets Body' collection – a presentation of girlish gingham silhouettes, distorted with padded lumps and extrusions – has been interpreted as a commentary on body image expectation during the era of the Supermodel. Over thirty years on – in a pared-back, more intimate and less theatrical offering than recent seasons – the padded silhouettes on display for S/S 2019 had a searingly personal touch. Padded pregnant bellies protruding from capes and sparkling coats, through jagged fabric resembling a cracked egg or the zigzag of sharp teeth. Gauzy Comme des Garçons print dresses criss-crossed with chains. The brand's signature tailoring, deconstructed, spliced and knotted to constrict the body.

Best in show: Those Comme des Garçons prints and idiosyncratically tailored silhouettes like capes and feathered double-breasted jackets, padded with pregnant bellies bore symbols of birth, reproduction and loss. Kawakubo, as the mother of her company, responsible for its reproduction, chained to its brand name. It was a touching portrayal of the brand founder's creative struggles, particularly from a designer who is so famously private. The image of a woman with chains dangling from her sleeves, in a spliced men's overcoat, also bore powerfully universal messages of women living in the era of #MeToo, and topically, through the devastating testimony against Supreme Court nominee Judge Brett Kavanaugh by Christine Blasey Ford.

Finishing touches: Models walked slowly and purposely down the catwalk, exposing their padded bellies to the voyeuristic audience in Nike VaporMax trainers swathed in chain.
Comme des Garçons S/S 2019.