Balenciaga S/S 2019 Paris Fashion Week Women's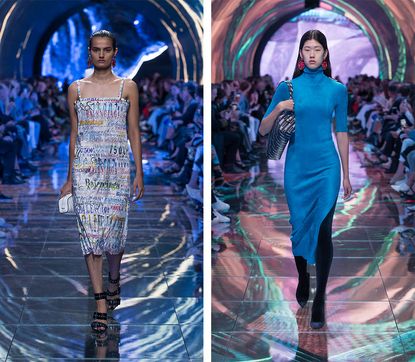 (Image credit: press)
Mood board: Is technology really rendering our lives better and easier and allowing us to be more connected, or is it completely ruining our existence? Maybe a little bit of both? By now, nobody will deny that those questions remain constantly in the back of our minds. Not even Demna Gvasalia. The designer's last outing for Balenciaga was a reflection on the effects that tech is having on us. It may not be a pretty picture, but it sure is a striking one. Upon arriving to the show venue in La Plaine Saint-Denis, guests took their seats in what looked like a long tube (much the inside of a gigantic computer cable), admittedly a bit of a claustrophobic, unsettling scenario, albeit an impressive one.
Team work: The set was in fact the work of Canada-born video artist Jon Rafman, who has made a career of exploring the way that technology is changing human beings. For the show, he conceived a cinematic video installation, part techno-futuristic, part like a bad psychedelic trip, which took over the whole set, from the floor to the ceiling. As if the effect wasn't ominous enough, there was the music, custom-made post-punk beats over which an Orwellian voice repeated, incessantly, the words 'presence is key, now is the answer, ego is not who you are... How has humanity been taken by this for so long?', like some sort of infinitely ironic mantra about our era. There was no doubt about it: Demna Gvasalia has rarely been in a darker mood.
Best in show: Further proof of it was in the clothes: gone were the humorous normcore slogans and exaggerated layerings from seasons past. This time, the collection was reduced to the strict minimum. There were simple dresses, suits and trench coats with extra-large square shoulders (no shoulder pads though, it was all the effect of 3D tailoring. At least we'll have that to thank technology for) and crisp shirts in a C silhouette (Cristóbal Balenciaga's trademark), accompanied by square-toed pumps and Demna's own trademark accessory, the sock boot. The only concessions to ornament were in the magazine clutches – a guaranteed best-seller – and a few ensembles embroidered with mini Eiffel Towers. After all, how much embellishment do we need for our 21st century lives running back and forth from the office with our iPhones?