Stella McCartney S/S 2018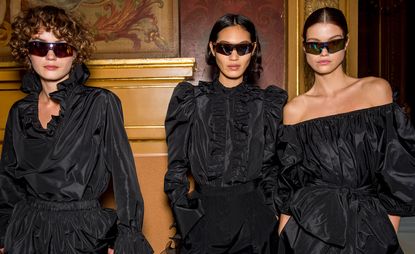 (Image credit: Jason Lloyd-Evans)
Scene setting: It was back to the opera house Palais Garnier for showgoers yesterday morning. We had already been there once this week for Balmain. Truth be told, the beyond gilded, over-the-top walls and ceilings of the building, completed in 1875 by Charles Garnier (who won a contest barely out of college) go hand in hand with creative director Olivier Rousteing's unabashed love of bling. It's a whole different story for Stella McCartney. The British designer used the surroundings of the Palais as a curious counterpoint to a collection that was tasteful, yet touched on streetwear silhouettes. Playing with the idea of taste, the show's invitations were imagined as a heavy roll of - eco-friendly, we take it - 'trashion bags'. Whether that was a nod to the current state of fashion or simply just good fun we don't know. In any case, it was a taste of the collection to come. And a damn good way of starting a Monday morning.
Moodboard: Sustainability has always been at the core of Stella McCartney's work. For S/S 2018, the designer upped the ante. Barely a couple of hours after the show, the brand announced its partnership with The Real Real, a luxury resale e-tailer, to promote circular economy, and re-sales of her past products. On the runway, McCartney's 'skin-free skin' was present not only in shoes and bags, but also in surprisingly real looking trousers, tops and overalls. It all shaped a collection full of eighties references, a youthful spirit and a bit of a Harlem style thrown in for good measure.
Best in show: The show opened with a look that was 100% Stella: navy blue trousers worn with a short-sleeved black blazer and a faux-leather bag with a macramé strap. All incredibly simple. In contrast, an off-the shoulder banana yellow onesie with a 'skin-free skin' leopard pattern followed. Same thing with an eighties knotted top, and denim, which came stone washed in all kinds of acid colours, from lime green to electric blue to dayglo pink. In their oversized proportions, they were sure to look as good on a 16 year-old girl as on a fifty-something fashionista. Some people critique McCartney for being unanbashedly commercial in her shows... But we can only wish commerciality looked always as good as it does on the Stella McCartney runway.