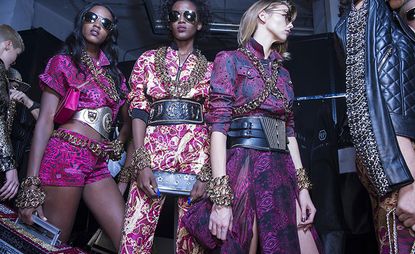 (Image credit: Jason Lloyd-Evans)
Scene setting: This season, Philipp Plein's extravagant showmanship was upheld to the same lofty standards, providing his audience and throngs of wanna-be-invitees gathered outside for the aftershow party with a sprawling circus of entertainment, the largest he's ever erected in Milan. There were pink flamingos, magic mushrooms, giant ice cream trucks, and an enormous twinkling carousel that jingled with delight. R&B queen Fergie entered into the playland through a towering ghetto blaster in a chauffeur-driven Cadillac, booming her song M.I.L.F. $.

Mood board: Plein called his over-the-top party 'Alice in Ghettoland', a name only he could invent and a concept only he could deliver. It was a mix of hip-hop pluck, girlish delight, dreamer fantasy and it all came showered in layers of glittering gold.

Best in show: As usual, all of the entertainment action made focusing on the clothes a challenge. But no matter, Plein worries far less about a hemline than he does his overall vibe. This season's hip-hop honeys looked best in their crocodile printed, embellished tracksuits and ropes of gold jewellery.
INFORMATION
Photography: Jason Lloyd-Evans