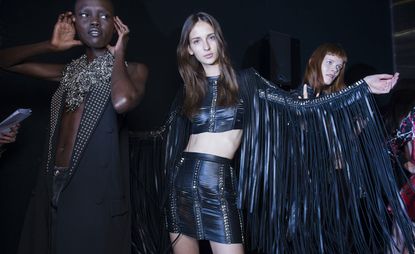 (Image credit: Jason Lloyd-Evans)
Mood board: It was a high tech punk heaven as Philipp Plein delivered his latest blockbuster show in Milan that set man against machine – or, to be more precise, robot against woman. Plein's woman is a fierce, fearless one who is a warrior on the streets as well as the nightclubs – she's thrown out her high heels for spiked flat boots and studded up platforms and she's got enough leather and silver to fill up a band of high-end Harley's Angels.

Scene setting: An enormous conveyor belt was set up inside a huge warehouse on the outskirts of Milan where models were 'assembled' like packaged goods by gigantic swinging machines, as if at a car manufacturer. If that weren't enough Plein also stationed a robot band called CompressorHead, a musical group of non-humans whose metal heads bounced back and forth as they punched on drums and hammered on their guitars. Next? A screaming live concert by none other than Courtney Love. It was unreal, as usual, and setting the bar ever higher for master showman Plein.

Best in show: Plein has never met a silver stud he doesn't love and this season – dubbed #PleinPunk could not have been any different. Though the oversized vintage men's jackets looked great with rows of pyramids and triangles, it was really the finale of dresses and bib necklaces that were covered in a densely tangled web of silver metal nails, spikes, studs, and pins that looked the coolest.
INFORMATION
Photography: Jason Lloyd-Evans