Rokh A/W 2020 Paris Fashion Week Women's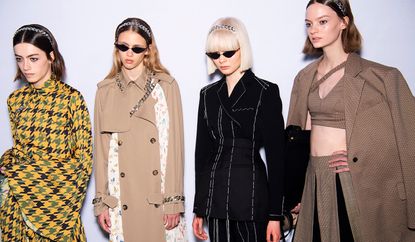 (Image credit: Jason Lloyd-Evans)
Mood board: Despite the thoroughly modern silhouettes that Rok Hwang proposes, there's a nostalgic nod behind his inspirations, like family road trips from Austin, Texas. For A/W 2020, the designer wanted to celebrate the wedding of his sister, whose matrimonial celebrations were taking place in Seoul the same day as his fashion show. The show set — lined with boxes of delicate Erica flowers — was a dedication to her favourite blooms, and it's deeply personal accompanying collection a celebration of Hwang's favourite memories of their childhood and her role as an executive working woman. The show's opening looks, a series of deconstructed all-black tailored pieces, finished with cutting room white stitching, nodded to Hwang's sister's high flying academic career, fluid floral dresses with striking cut-outs nodded to days spent as children playing outside when living by a lake from a caravan in Texas, and crystal embellished dresses and grandma cardigans were a reference to Hwang's sister's love of sparkly things.

Best in show: Hwang worked under Phoebe Philo at Celine and despite having only shown three collections on Paris Fashion Week's official show schedule, the designer's twisted take on classics have earned him legions of intelligent fashion fans. A trench coat spliced with pleated floral print panels and embellished with chains was delightfully deconstructed, feminine and powerful in one silhouette.

Team work: Last season, Hwang unveiled a collaboration with Asics. A/W 2020's sophomore outgoing featured a sneaker style festooned with neon hand knotted jump heads. Sneaker heads, get in line.