Lanvin A/W 2020 Paris Fashion Week Women's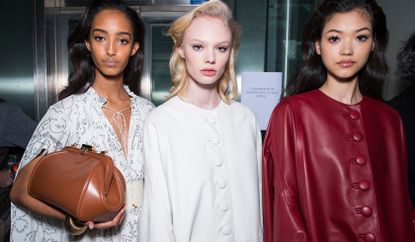 (Image credit: Jason Lloyd-Evans)
Scene setting: Scattered around Paris are a few historic buildings favoured by fashion and regularly used as show venues, from the Ecole de Beaux-Arts to the Palais de Tokyo. Why the Manufacture des Gobelins is not among them is a mystery, so we have to thank Lanvin for revealing it to the fashion pack yesterday. Located in the Rive Gauche, the building was commissioned in 1662 by Louis XIV's minister Jean-Baptiste Colbert in order to bring together all the artisan ateliers working for the state. Today, it also hosts a museum showcasing an array of colourful furniture and tapestries dating from the 15th century. It was here that Bruno Sialelli chose to show his latest co-ed offering.

Moodboard: Even before the show began, there was something cinematic about it. Paired with the extravagant surroundings was Angelo Badalamenti's jazzy Twin Peaks score. That Sialelli is a film buff was made clear through the music choice, taken from Russ Meyer's unforgettable Faster Pussycat! kill kill! and from Hitchcok's Music to be murdered by. The collection had a certain kind of movie glamour to them too, albeit more in a '60's Italian jet-setter' kind of way. If the 20s and the 40s — Jeanne Lanvin's lifetime — were also referenced, it was mainly through coats fitted at the waist and mid-calf lace dresses. Elsewhere, shapes were cocoon-like, colours delicate, collars consistently furry and the general look was a sort of twisted old school ladylike charm (with the least explored twisted part being the most intriguing). Bejewelled evening dresses in pastel tones, embroidered at the straps with pearls and crystals, closed the show in a tasteful, very Lanvin way.

Finishing touches: Flat mid-calf boots completed the mini skirt looks, reinforcing the 60s inspiration (and were often paired with long leather gloves, faux-fur collars and extra large clip-on earrings). But, for men, accessories brought on a more louche attitude. Who knew a long silk Isadora Duncan-worthy scarf would look so good over a tuxedo? The real accessory winner, though, were the very insta-worthy bags, ranging from the mini lunchbox-shaped (complete with lipstick kisses) to the patisserie box-inspired in tan, cream and pale blue tones. How the millennials and the Gen Z will respond to this kind of pieces will determine the buzziness of the brand in the next few months.