Chloé A/W 2020 Paris Fashion Week Women's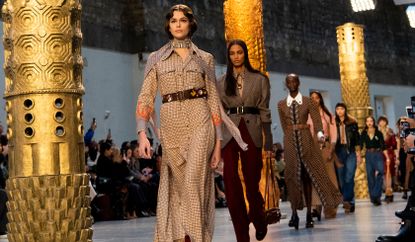 (Image credit: Jason Lloyd-Evans)
Moodboard: In the almost three years since she took the creative helm at Chloé, Natacha Ramsay-Levy has explored femininity in all its facets, from the leisurely gypsey traveller to the unapologetic career woman. This season, though, the designer seemed to let go of that categorisation, with fabulous results. By combining flowy chiffon dresses, varsity-inspired knitwear, lacy ensembles and masculine suits on the same collection, the Chloé woman became satisfyingly multi-dimensional. 'Yes, clothes are great, but I love creative women', Ramsay-Levy said backstage. It showed: ample pleated suit trousers (the kind of comfortable, chic piece anyone would want in their closet) were worn with t-shirts, voluminous transparent lace tops or mismatched blazers hugging the waist. Checked dresses with cowboy finishings were discreetly embroidered. Eveningwear was fit for the red carpet or a beach party, and felt both comfortable and insanely chic. These are the clothes women really want to wear, and Ramsay-Levi is here to prove that reality and creativity are far from incompatible.

Team work: Guests received their invitations complete with a small poster of a Rita Ackermann painting. The New York-based Hungarian artist, particularly active in the 90s, also shared five of her paintings with Ramsay-Levy, who used them as little patches on shirts, a print on a shirt dress and on a blanket shawl, printed with her 1994 painting Leave me Alone (Millennial women should be particularly enticed by this). It was not the brand's only artist collaboration of the season: French sculptress Marion Verboom created golden totem-like statues that brought a glow to the catwalk, and Marianne Faithfull was in charge of the score, reading Lord Byron in her trademark raspy voice.

Finishing touches: Accessories and details are always plentiful at Chloé, sometimes even in a blink-and-you-miss-it way. This season was no exception: tan leather belts came complete with enamel pins, delicate silver jewellery took on organic shapes and bags ranged from the tiny-proportioned to the extra roomy printed tote with braided leather details. Shoes were exclusively flat and menswear-inspired, a collection of derbies, monk straps, chelseas and Sorel-like lace-up boots worn with exposed cocoa and tan silk socks. They were the perfect, simple-yet-stylish cherry on top of a very accomplished collection.