Stella McCartney A/W 2019 Paris Fashion Week Women's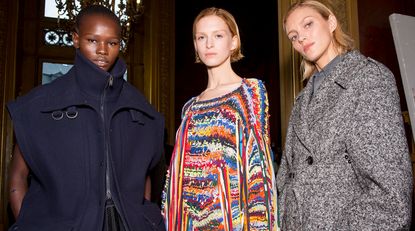 (Image credit: Jason Lloyd-Evans)
Moodboard: A lot has been said and written about sustainable fashion lately. Mostly, the questions surrounding the subject have no easy answers: is ethical, sustainable fashion really possible in a capitalist world? What is worst, the use of animals for fabric or synthetic, polluting vegan materials? Where do real ethics end and where does greenwashing begin? Stella McCartney has clearly pondered on all of these and more during her career, and adapted her answers to the evolution of the times. In her latest collection, that answer had a lot to do with upcycling. The British designer has salvaged batches of old, discarded fabric (her own, from previous collections, in several cases) to make something new out of them.

Best in show: Something new, yes, but not ragingly trendy. McCartney is well aware of the way disposable trends contribute to fashion wastefulness, and so this season she decided to go with classics, the kind of clothes you could buy so that, one day, your grandchildren might wear them. There were the trademark Stella slouchy suits, this time in checkered prints and paired with Hunter boots (again, sustainably made out of natural rubber) that couldn't help but make you think of those early 1980's pictures of Paul McCartney frolicking with baby sheep in his countryside home. The 1980's were also present in the power shoulders and graphic dresses in pops of colour including yellow, pink and blue. Some of them almost looking like the kind of tunics religious leaders wore in the 1980's. It was somewhere between the realism of practicality and the fantasy of an imagined future – more optimistic than current times, clearly – that made the collection's charm. Among the accessories, it was a new kind of cylindrical bag that stood out the most, both in oversized and mini shapes.

Team work: Before the show, as guests were arriving at the Opéra Garnier, a recording played, explaining McCartney's latest charity venture. Titled 'There she grows', the campaign aims to help the endangered Leuser Ecosystem thrive by encouraging people to make donations to plant trees in the Sumatra region. The project hopes to drive donations to the nonprofit organisation Canopy, which protects endangered forests. It was not, though, the only collaborative project of the day. For the collection, the designer partnered with artist Sheila Hicks to create wrapped adornments using traditional weaving techniques. Worn by the models like badges of honour, they acted as wearable works of art.