Marine Serre A/W 2019 Paris Fashion Week Women's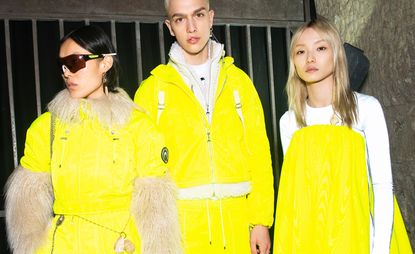 (Image credit: Jason Lloyd-Evans)
Scene setting: Silicon Valley execs are buying land for safe houses in the Pacific Northwest. Near Wichita, Kansas, The Survival Condo ownership project boasts luxury underground apartments for survivalists. New Zealand is seen as a post-apocalyptic paradise. In the United Kingdom, rumours swirl of supermarkets stockpiling food amidst Brexit chaos. Marine Serre is sensitive to our planet's environmental instability. Last season, a third of her collection was created from upcycled fabrics. Her outdoors-shot SS19 campaign, released earlier this month, has a surreal edge, with an apocalyptic flaming sky. For A/W 2019, Serre bought guests into a vast subterranean vault in Issy-les-Moulineaux, imagining a dystopian environment where humans have sought refuge underground. Editors walked through a tunnel projecting green laser beams, before entering a vast space illuminated with ultraviolet light, with benches swathed with shaggy coloured fur and fleece.

Mood board: Serre's survivalist chic incorporated hybrid silhouettes, which reflect her sports-meets-couture aesthetic. Full body suits emblazoned with her signature half moon prints were layered with nipped tartan two pieces, protective puffer jackets with shaggy fake fur, flowing scarf dresses, duvet-made capes and puffball mini skirts, in neon and reflective shades. These end-of-the-world wares had a hint of 90s raver, complete with berets, gas masks, sporty reflective shades and mountain boots. The pieces had a spliced and reassembled quality, with luxurious moiré paired with neoprene, printed silk with vinyl, as if stitched together from piles of clothes, detritus from Serre's doomsday.

Finishing touches: Guests received a necklace as an invitation: a chain dangling with a seashell and a small pulsating light. Serre's accompanying catwalk jewellery had a disaster-DIY aesthetic, and models jangled down the catwalk sporting oversized earrings and jingling chain belts strung together from driftwood, shells and micro chips.