Ports 1961 A/W 2019 London Fashion Week Women's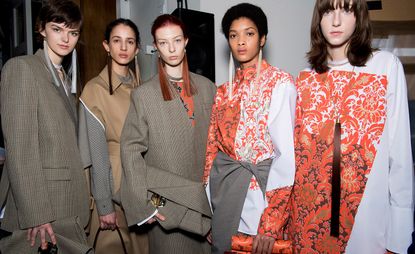 (Image credit: Jason Lloyd-Evans)
Mood board: Sophistication has swagger again. After seasons of trainers and sportswear, a new take on smart dressing is dominating. Just look to the smart foulard silks, pencil skirts and pussybow blouses, which Riccardo Tisci debuted at Burberry last season. Outside the shows, hair clips, trench coats and kitten heels are taking centre stage. Ports 1961 has always had a smart yet playful sensibility. Its signature piece is the shirt.

For A/W 2019, the staples of bourgeois dressing, from twinsets to evening dresses fascinated creative director Nataša Cagalj. These were reinterpreted with off-kilter elements, like camel dresses appearing undone at the collarbone, asymmetrically cut blazers and vinyl mackintoshes with flyaway sleeves. Eveningwear and tailoring but twisted and turned. Classic grey, camel, black and white, offset with pops of satsuma, carmine and eggshell.

Best in show: From cashmere to camel hair, bonded wool to houndstooth, luxury lay here in Cagalj's fabrications. Standout was a zebra stripe knitted sweater with trailing threads, oversized oblique cut blazers and a camel coat worn on the reverse, dangling with long threads of gold chainmail.

Finishing touches: Long tassels dangled from model's ears or hung low on the décolleté as pendants. The fine strands resembled not bourgeois string of beads, gemstones or plumes of feathers, but dense lengths of hair.