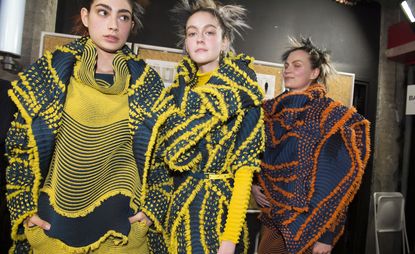 (Image credit: Jason Lloyd-Evans)
Mood board: There's a vivacity to Issey Miyake's clothing. The brand's designs bounce and spring animatedly down the catwalk as if held by invisible threads of string or carried along by an invisible wind. For the Japanese label's A/W 2018 collection, Yoshiyuki Miyamae took inspiration from 'the breath of the wild', with a collection imbued with the shades of nature, from the whites of polar ice caps, the greens of lichen and the deep blues of the ocean. Due to the revolutionary mechanical processes used to craft Issey Miyake clothing, the brand is often associated with an efficient industrialism, but for A/W 2018 the brand's signature knit and wavy weave pieces were finished with fronds of tufty fur, and accessorised with knobbly hats which evoked patches of scrubland or underwater plants.

Scene setting: The brand swapped the opulent setting of the Grand Palais' Salon d'Honneur for a more industrial and stripped back underground show space at the Palais de Tokyo. The runway was illuminated by stacks of neon tubing, like abstract torches shining on a natural landscape.

Team work: Miyamae collaborated with octogenarian graphic designer and illustrator Tadanori Yookoo on a show ticket which unfolded to reveal two winter-inspired artworks. One side featured the profile of a wolf and a burning campfire against a snowy landscape, and the other a circling collage of white tigers – both hints of the 'enduring plants and animals' living through harsh temperatures which inspired Miyake's A/W 2018 collection.