Chanel A/W 2018
Karl Lagerfeld goes into the woods for autumn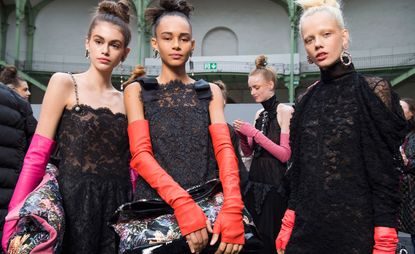 (Image credit: Jason Lloyd-Evans)
Scene setting: After recreating a giant supermarket, actual waterfalls or a Cape Canaveral rocket launch, Chanel's A/W 2018 show set at the Grand Palais seemed more understated than usual. This time, it was 'only' a forest. Real, mature trees covered in moss and Chanel-branded autumnal leaves completely covered the floor. Such a natural setting evoked more emotion than usual. This was a landscape that offering a multisensory experience – the earthy scent of tree bark filled the air – and it was also a reflection of the times, in which permanently stressed urban dwellers are turning en masse to the liberating antidote of the great outdoors.

Best in show: The collection itself was an ode to country living – Chanel style. This translated into cosy tweeds, worked almost as tartan (even for the French, the epitome of country living is based on Britain) and cut like blankets, architecturally wrapping around the body. Same went for the 'tailleur' jackets, longer than usual and constructed in shapes that had less of a sharp elegance and more of a cocoon chic to them. Ease was the mot du jour, and the collection featured a few puffa jackets (and that's as close as Chanel will get to luxury streetwear). Autumn was everywhere in the colour palette, which mixed maroon shades with burgundy and beige, throwing in a few multicolour leaf prints as well as coppery leather in the shape of skirts, culottes and thigh-high boots. But timeless black – one of Coco's favourites – was also present, particularly in the evening gowns at the end of the show. Quieter than seasons past, they featured lace, satin and bias-cuts that had an irresistible 1930s glamour to them.

Finishing touches: The brand eschewed gimmicks in favour of more toned-down, classic Chanel bags (the kind that sell like 'petits pains' as the French would say). Exceptions were made for the golden boots, as well as for a few maxi tote bags in transparent PVC (a theme that carried over from last season's show). The only truly novelty bags in sight – and we do love those at Chanel – came in the form of giant pink camellias entirely covered in crystals. Irresistible eye candy that will end up in more than one editorial... and hanging off the shoulder of many an It-girl.