Stella McCartney A/W 2017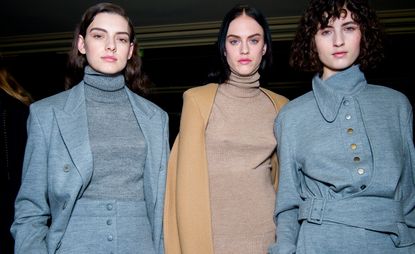 (Image credit: Jason Lloyd-Evans)
Mood board: Like the hits her models sang karaoke-style at the show's end, Stella McCartney has an amazing ability craft a diverse range of inimitable show-stoppers season after season. For A/W 2017, McCartney combined equestrian influences, from plaid tailoring to a horse print motif by the painter George Stubbs, with embroidered sheer dresses paired insouciantly with checked trousers or a green roll-neck, to-the-manor-born quilted coats, high-shine mackintoshes and corset detail mini-dresses.

Best in show: McCartney has always been a master when it comes to tailoring, and for A/W 2017, the designer imagined a checked blazer-style mini-dress featuring not one but two lapels, which poked cheekily from under each other.

Finishing touches: Sporty popper details featured as buttons on shirts and trousers, and these metal finishes were also echoed in the toe-caps of boots, crafted in white, tan and patent burgundy. Athletic details consistently bring an effortless energy to McCartney's collections, and this was emphasised for A/W 2017 in high-performance trainers with colourful panels and speckled soles.