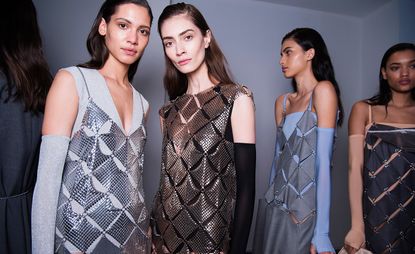 (Image credit: Jason Lloyd-Evans)
Scene setting: The Musée d'Art Moderne couldn't be a more fitting place for Paco Rabanne. After all, this is a brand that was built on modernity in the 1960s. How to translate that concept almost 60 years later is certainly a tricky one, but that hasn't deterred French designer Julien Dosséna from trying, more or less with success, for the last few years. But this one was one of his best efforts, beautifully staged within the pristine walls of a long curved room in the museum, through which the models marched as cold white lights fell upon them. It was all very 2001.

Moodboard: When Spanish 'it girl' Sita Abellán is in attendance, you can be sure the cool factor is also gonna be there. And it was: Dosséna managed to turn his girls into hi-tech, sporty Joans of Arc who, despite the very different inspirations cast upon them, still looked effortless. He also went further than ever before in his exploration of knitwear and came up with a series of very wearable oversized jumpers and long bodycon backless dresses – particularly covetable especially when they came in dark green.

Best in show: Metallic never looked as good in Dosséna's hands as it did today. Forgoing the complicated asymmetries, constructions and cutouts he has sometimes adventured into, he went instead for simple, figure-hugging party dresses. Spaghetti straps, below-the-knee skirts, tee-shirt shapes and exposed midriffs were everywhere and looked every bit the edgy party girl part. But the piece that particularly caught our attention was a hooded dress combining metallic panels and grey-blue jersey worn by Mica Arganaraz. More of that, please!