Olivier Theyskens A/W 2017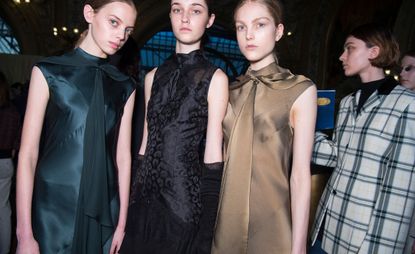 (Image credit: Jason Lloyd-Evans)
Scene setting: For his second solo show, Olivier Theyskens chose as his location Le Train Bleu, the rococo, gold-rimmed and frescoed restaurant inside the Gare de Lyon. Parisians swarmed in gasping – curiously, most of them said they didn't even know the place existed – at the paintings on the walls and the ceiling, depicting typical French holiday destinations from the Alps to the Côte d'Azur. Guests were seated in peacock blue leather benches overlooking the wooden bar, wondering what to expect from the collection, given that the last one was shown in a minimal, pristine white cube.

Mood board: Last season, Theysken's collection was criticised for being too 'tame', 'minimal' and 'wearable'. Did this change of scenery mean the Belgian designer had moved away from the Theory aesthetic and back to his dramatic Rochas years? Well, yes and no. While the collection was undoubtedly more audacious (taffeta ruffles, long coats and tulle mile-feuilles were joyfully present), there was a sense of realism to the whole affair, as exemplified by the cashmere sweaters – often worn under satin corsets – and the skinny brocade trousers (wearable and super covetable at the same time).

Best in show: Following an almost all-black first collection, guests at today's show were delighted when, early on, a pistachio green mini dress in stiff silk grosgrain made its appearance on the catwalk. It was followed by a long Edwardian-inspired coat in the same material but a clementine shade. But the highlight of the show was undoubtedly a theatrical black mid-calf ruffled taffeta dress, a good reminder of what the Theyskens can do. And exactly what we want more of.