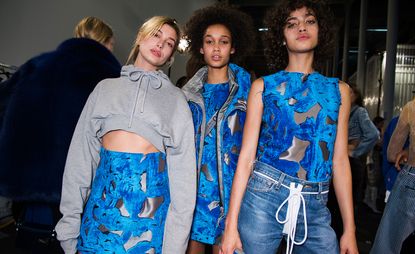 (Image credit: Jason Lloyd-Evans)
Scene setting: With a similar concept to its last menswear show, the Off-White set at the Palais de Tokyo saw a room turned into a forest. Bare trees were suspended from the ceiling, and the floor was covered in dead leaves that crunched as guests found the way to their seats. Purple and blue lights gave the whole scene a night-time quality, like a haunted fairy tale forest. Only this time, the fairy tale was all about the street, Virgil Abloh the charming prince swooned over by the usual hordes of teenager boys and girls who lurk outside each one of his shows in the hippest outfits, not waiting for the celeb guests but for the biggest star, the designer himself.

Moodboard: Just like the set, the collection followed the menswear in its inspiration, starting with blue and white check prints on oversized coats but also on slitted pencil skirts and bandeau tops (a ladylike departure from Abloh's usual street vibes), as well as dresses held together by obi belts and worn with loose thigh-high boots. Things started getting more familiar with the denim, which came as boyfriend jeans and cropped jackets, both covered in ruched nude tulle. There was also dévoré electric blue velvet and grey satin duchesse in the shape of mini skirts (the designer stepping into the same kind of rococo streetwear as Rihanna with her Puma Fenty collaboration), wide-legged silver leather pants and even oversized silver Birkin-like bags – serious arm candy.

Best in show: Was Abloh pitching for the Givenchy job? It really seemed that way, especially with the satin and lace slip dresses, which could have felt a little dusty were they not paired with tee-shirts, transparent glasses and sexy knee-high boots in check, that gave those more classical looks a contemporary feeling. Since Riccardo Tisci's departure, the designer would certainly provide the maison with the freshness and the hype it now craves.