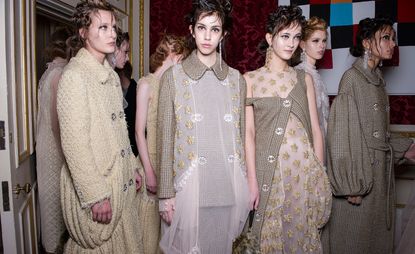 (Image credit: Jason Lloyd-Evans)
Mood board: As usual, St. James' Palace provided the perfect backdrop to Simone Rocha's unapologetic opulent, but laid-back offering. Ghost-like Victorian sheer dresses covered checked tweed finished with gold thread opened to a haunting soundtrack in the grand rooms.

Best in show: Crochet knits in black – either the geometric square kind or the flowery kind – gave the impression of spider webs enveloping the models. One dress completely left the wearer no room for arm movement, enclosing the sides which were adorned with oversized pockets.

Finishing touches: Asymmetric drop earrings, longer on one side than on the other, added a sense of imperfection, as if the outfit was hastily put together by a moody woman, who dragged her fur stole behind her on the floor as if she came out to this noble venue reluctantly.
INFORMATION
Photography: Jason Lloyd-Evans