Erdem A/W 2016
Erdem Moralioglu deftly employs heavy embellishments, metallic lace and ruffled bodices to bring his Old Hollywood screen sirens to life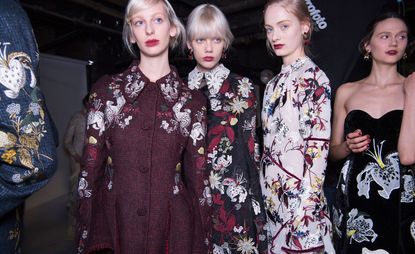 (Image credit: Jason Lloyd-Evans)
Scene setting: Erdem Moralioglu's Old Hollywood screen sirens were right at home on his A/W 2016 set that resembled a retired MGM sound stage. Designed by Robin Brown and executed by Family productions, chandeliers glowed from their wooden storage frames, while mix matched sandstone urns, odd ballroom chairs, decaying Roman-esque pillars, out of commission wicker love seats and bare lattice arches filled the dimly lit Old Selfridges Hotel.

Best in show: Nobody does femininity quite like Erdem, and especially when it comes to event dressing. However, he also knows how to best off set that femininity, and so his 1930s era metallic lace dresses, with their ruffled bodices and soft peplums, were grounded with sturdy leather boots. Other standouts included his Forties, Lauren Bacall suiting (in a graphic black and white tweed or embroidered plaid variations), closely followed by a fringed Twenties ensemble, lavished with gold tinsel that sashayed down the corridors of the jumbled film set. The designer's heavily embellished capes also carried a screen siren delicacy, albeit fused with an unexpected fluidity in spite of the weight of their decoration.

Finishing touches: Elegant, jewelled hair clips held tousled side-parted manes off the face and also highlighted the models' tender drop earrings that were similarly encrusted with glittering coloured gem stones.
INFORMATION
Photography: Jason Lloyd-Evans