Dries Van Noten A/W 2015
An arresting new urban elegance emerges beneath the dramatic chandeliers of Hôtel de Ville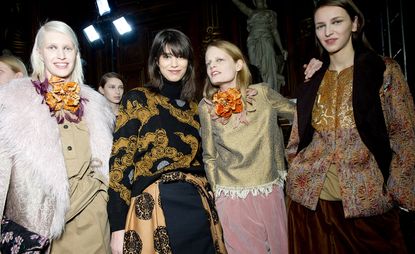 (Image credit: Jason Lloyd-Evans)
Mood board: Back beneath Hôtel de Ville's dramatic chandeliers, Dries Van Noten took utility to the prairies via the Orient, as billowing, unhemmed cargo pants, patch-pocketed trenches and peplum jackets were cut in dusty floral jacquards, metallic brocades or Batiks before trailing apron skirts and peacock-hued embellishments set his grounded glamour free into the night.

Best in show: The contrasting textures of these eclectic tapestry silks, rich velvets and Bloomsbury brocades against the collection's khaki drub, over-dyed cotton and sweatshirt jersey, made for an arresting new urban elegance.

Scene setting: The juxtaposition of having such a large, formal venue played off against a completely acapella soundtrack - featuring female power ballads by the likes of Debbie Harry, Courtney Love, Kate Bush, Lily Allen and even Destiny's Child - squared up an even more powerful performance. These iconic voices and their lyrics reverberated through the gilded hall over the occasional clack of the models' velvet-heeled boots. Even Kanye West, seated in the audience, was in raptures.