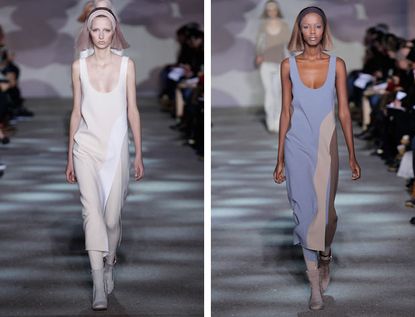 (Image credit: TBC)
Wallpaper* Newsletter
Receive our daily digest of inspiration, escapism and design stories from around the world direct to your inbox
Thank you for signing up to Wallpaper. You will receive a verification email shortly.
There was a problem. Please refresh the page and try again.
'Happy days are here again,' professed a throaty voice, over and over and over again, during the Marc Jacobs show in New York - the designer's first outing since his recent departure from the French house of Louis Vuitton. Now that the stress of two big gigs are behind him, and more focus is being paid to his Marc by Marc Jacobs second line, the event could have potentially been billed as a sunny occasion. So why did the voice (which happened to belong to the actress Jessica Lange) sound so damned depressed, if not a little bit nutty? The doldrums were dampened further by heavy grey clouds (in an overhead installation) that literally hung over the show space like a bad mood. Ironically, though, the audience was perfectly cheery. Not only was each audience member treated to a front row seat on an individual comfy foam stool, but many of the clothes looked good enough to eat. Working in a palette-cleansing array of nudes (who knew there were this many shades of blush and beige?), Jacobs took streamlined silhouettes from the late 1960s and early 1970s and brushed them up with modern elan. Two-piece matched sets were key to the look: long column dresses or tunic tops in wool crepe were paired with matching tone-on-tone flared pants that were skinny enough to be tights. Though the shapes were pure and simplified, the surfaces were animated with engineered panels and collages of mixed colours, which were more convincing than the tiers of sheer ruffles that came later. The collage work grew in scope, adding on an ergonomic spin with elbow pads, stirrups, shoulder pads or yoking that was all drawn out in mixed materials on bomber jackets, cropped pants and even on the fabulous fur over the knee boots. In the barely there colours, this intricate work came off as cooly subtle, just like the model's faces that were awash in non-coloured makeup and blunt bobs that shimmered with otherworldly iridescence. When he came out for his bow, Jacobs did not appear to believe that Happy Days were in fact here again. But take it from us: the skies above will definitely clear again.
Receive our daily digest of inspiration, escapism and design stories from around the world direct to your inbox