Vivienne Westwood S/S 2018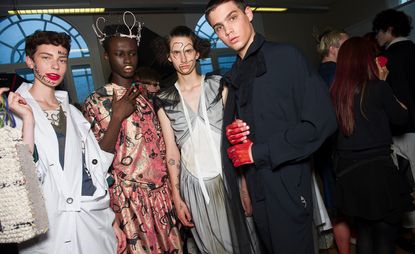 (Image credit: Jason Lloyd Evans)
Scene setting: The scene of this season's men's shows has had an athletic twist, Martine Rose using colourful rock climbing walls as the backdrop to her catwalk show, and Kent & Curwen assembling its models together as if they were sitting for a sporting team photograph. For its S/S 2018 show, Vivienne Westwood chose the Seymour Leisure Centre as its location, an apt venue considering the energy with which Westwood's and her husband and designer partner Andreas Kronthaler's band of models danced, cartwheeled and sashayed down the catwalk.

Mood board: The collection was an energetic celebration of all things Westwood – historic silhouettes, tailoring, tartans and majestic crown headwear. A male model strode the catwalk in a shiny black floor-length dress with a deeply exposing V-neck, while a female model turned ballet dancer performed in point shoes and a white lace dress, cut using Westwood's famed body-cinching precision. Vivienne Westwood has always been a strong supporter of environmentalism, a stance even more potent since Donald Trump's decision earlier this month to pull America from the Paris agreement. Her position against climate change (one often explored readily in her collections) came in water bottles and detritus attached the legs of models, prints featuring doodles of the word 'economy' and vast cash sums, and a sweater stamped with a muddied footprint.

Best in show: Vivienne Westwood voiced her support for Labour's Jeremy Corbyn, who emerged seemingly victorious from last week's General Election in the UK, despite not winning. Westwood, too, appeared victorious, appearing on the cawalk in a wildly Instagrammed moment, on the shoulders of a made model, clad in an ace of spade print vest, white doodled leggings, platforms and a wonderfully triumphant expression.