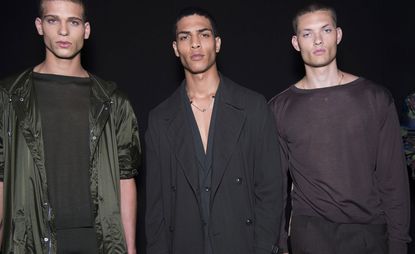 (Image credit: Jason Lloyd-Evans)
Mood board: A fantastic Bruce Weber-directed film opened the show at Versace where local groovesters from Chicago got down dancing on the streets with Karlie Kloss and Gigi Hadid. The joyful, perfectly in-tune moment set the stage for a collection that was uncharacteristically, but welcomely sober, featuring cleaned up streetwear in lovely, muted tones.

Best in show: Everything this season was washed off of excess and loosened from traditionally skin-tight fits. Fluttering anoraks floated like silk scarves, while elegant pants breezed by with a whisper rather than Versace's usual bun-clinging trouser silhouette.

Finishing touches: There were of course a few classic lace up shoes but the main footwear news was a Birkenstock-meets-Teva hybrid worn with socks and cropped loose trousers.
INFORMATION
Photography: Jason Lloyd-Evans