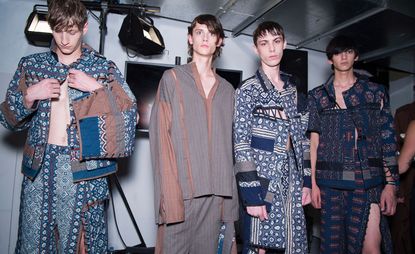 (Image credit: Jason Lloyd-Evans)
Mood board: Craig Green kicked off the LCM S/S 2017 schedule with a free-spirited, even romantic, unfurling of everyday uniforms – be they those of a handkerchief-swaddled Scout squad, a professional's two-piece or the quilted garb of his more familiar martial artist. Green began with hybrid suiting, deconstructing traditional grey wool pinstripes by splicing and then re-stapling linear panels back together with terracotta hued inserts. As his nomad tailoring flapped down the runway, the desert breeze blew in patchworked judo jackets and wide-legged pants (again with numerous splits, for which some were laced a little of the way, adding a street element reminiscent of Adidas' 1990s press studded track pant), which were quilted from Moorish, hand-blocked prints inspired by Moroccan bed sheets that also looked a little Batik.
Best in show: The unlacing continued with Green's recalibration of the trench. His cotton drill, part anorak, part coat in hues of brick brown and camel channeled Yves Saint Laurent's Veruschka dress albeit under the influence of a more utilitarian desert punk riff. Here tabs and lacings (as if borrowed from a ship's sail) took over from last season's trailing ties. They also held the gender neutral line and will be sure to infiltrate the wardrobes of his female fans too.
Team work: Green is still yet to cash his £150,000 check from his May BFC/GQ Designer Menswear Fund win, but he's already stepped up the production values bringing in music maestro Frederic Sanchez for S/S 2017. Together the pair lulled us into awe with organ music that possessed an eerie twilight brio.
INFORMATION
Photography: Jason Lloyd-Evans