Fab 40: Beauty innovators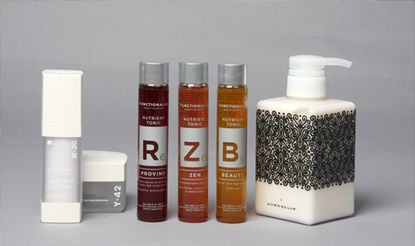 (Image credit: TBC)
Wallpaper* Newsletter
Receive our daily digest of inspiration, escapism and design stories from around the world direct to your inbox
Thank you for signing up to Wallpaper. You will receive a verification email shortly.
There was a problem. Please refresh the page and try again.
[B]Functionalab, Montrea[/B]l
Functionalab is undoubtedly one of the most exciting things to come out of Montreal this year. Connecting the dots between nutrition, cosmetics and pharmaceuticals, the nutraceutical company has ushered in the new frontier of the beauty industry with its comprehensive range of health supplements, each firmly focused on beauty concerns.
From unique multivitamin formulations targeted at regulating sebum production or boosting collagen, to potent nutrient tonics that offer protection from free radicals or stimulate energy levels, Functionalab is a full-service package. At the helm of the growing company are co-founders Erick Geoffrion and Francis Maheu, both native Montrealers. The similarities end there; while Geoffrion is a 20-year cosmetic and nutrition industry veteran, Maheu was amongst the top dogs at Lazard Frères investment bank.
Although one might expect that such differing backgrounds would result in a clear demarcation of roles, the duo typically infringe on each other's areas. 'We're like an old couple now. We completely understand each other but we also keep stepping on each other's toes,' says Geoffrion. 'Francis has a really strong visual side, in addition to his financial background, while I'm more of a brand builder.'
Behind the slick packaging, Functionalab's formulations are also bar none. When the pair approached Quebec-based biotechnology firm Atrium to produce the supplements, they found an investor as well. The support shows in the products.
Stand-out gems include the 'Provino' tonic, which boasts the equivalent amount of Reservatrol as seven glasses of red wine to promote healthy circulation, and the 'Prophyto' tonic that delivers an impressive 430 mg of anti-oxidising polyphenols per its 60 ml.
[B]Gee Beauty, Toronto[/B]
Gee Beauty was founded in 2005 by a mother and daughter team – mother, Miriam Gee, a former make up artist and beauty editor and daughters Natalie, Stephanie and Celene. A beauty studio that focuses on faces, Gee beauty gathers under one roof a selection of skincare to invest in, from Dermalogica to Malin, and Goetz to Modern Apothecary.
Services include brow-shaping and make up application. With the help of the creative eyes of design duo Superficial they have developed their own make up and accessory range – mineral-based, skin-friendly formulas. 'Our focus is on caring for the skin, so the make up meets those needs first,' says Celene.
Their latest venture together is one that occupies the basement of their building. Called Down Below, it is a salon with its own identity which looks after the rest of the body – principally waxing, manicure, pedicure and tanning needs. Their clever branding is easily packageable, and we expect Down Below to be moving into basements around the country sometime soon.
[B]Euoko, Toronto[/B]
Euoko is not a high-tech Japanese brand, which is what most people assume from the name and the sleek packaging. It is in fact a Canadian brand with a Cambodian inspired name, founded by an Armenian/Cypriot Torontonian whose head was in computers until by chance, a project for a high-end cosmetics company alerted him to the vast prices that are charged for creams that cost two dollars to produce.
With the confidence that there was a market for expensive skincare that cost peanuts to make and delivered even less, Brandon Truaxe set out on a four year mission to develop a line that pushed all the boundaries on the technology and efficacy front, regardless of the cost. He teamed up with Dr Adel Rammal, who had collaborated with Dior, and they worked on delivery systems that would protect the efficacy of active ingredients, even after they are blended, and ensure they arrived at full potency deep in the skin.
They have stabilised for use 135 active ingredients which they pump into the five different ranges, targeting ageing (Y line) pollution protection (P line) lightening and whitening (W line), radiance (R line) and acne (A line). The processes are complex and costly, and so are the products. But Euoko doesn't sell itself on the latest gold-dust miracle ingredient; rather, it focuses on its development and delivery mechanisms that allow the miracle ingredients to actually have an effect.
Receive our daily digest of inspiration, escapism and design stories from around the world direct to your inbox
Jack Moss is the Fashion Features Editor at Wallpaper*. Having previously held roles at 10, 10 Men and AnOther magazines, he joined the team in 2022. His work has a particular focus on the moments where fashion and style intersect with other creative disciplines – among them art and design – as well as championing a new generation of international talent and profiling the industry's leading figures and brands.